Lindsay Lohan confirms West End debut in Speed-the-Plow
Lindsay Lohan
will make her West End debut later this year in a production of David Mamet's
Speed-the-Plow
at the Playhouse Theatre.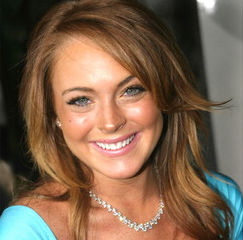 Directed by Lindsay Posner, the production will open on 2 October 2014 (previews from 24 September). It runs to 29 November.
The play focuses on an ambitious Hollywood producer and his decision, brought about by his seduction by a sexy temp (played by Lohan), to film a novel about a nuclear catastrophe and the end of the world rather than the star-laden, sure-fire hit brought to him by his grovelling sidekick.
The original Broadway production of Speed-the-Plow starred Madonna while the British premiere was mounted by the National in 1989. It was recently revived at the Old Vic starring Kevin Spacey and Jeff Goldblum.
Lohan, whose film credits include Freaky Friday and Mean Girls but has become more known for her exploits off screen, recently Tweeted a picture of herself outside a theatre stage door with the words 'ready for my close up'.
She told the New York Times recently: "It's the first time I've done a stage play or anything like that. I'm nervous but I'm excited."
Lindsay Posner has previously directed five Mamet plays in London, including A Life in the Theatre with Patrick Stewart and Joshua Jackson, Sexual Perversity in Chicago with Matthew Perry and Minnie Driver and Oleanna with Aaron Eckhart and Julia Stiles.
Further casting for Speed-the-Plow is still to be announced. It's produced by Danny Moar and Simon Friend for Theatre Royal Bath Productions.
ready for my close-up! xo pic.twitter.com/PsbJT89lOG
— Lindsay Lohan (@lindsaylohan) June 20, 2014