Farinelli and the King (Duke of York's)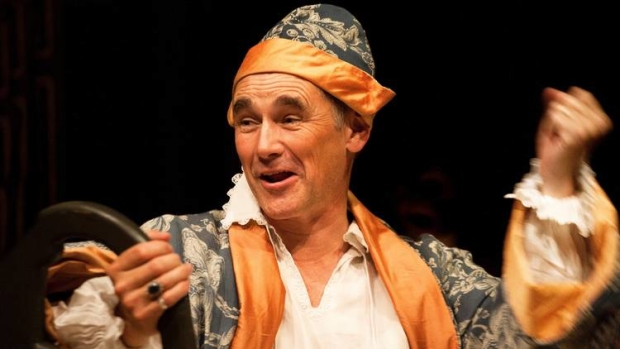 Mark Rylance's King Philippe V of Spain has this at least in common with Johnny Rooster in Jerusalem, his last big West End hit: he goes back to nature, communes with the birds and the stars and sticks up two fingers to civic notions of duty and responsibility.
Otherwise, Rylance's loony melancholic leader finds him at his most delicate and ethereal, and clownish. As in the candlelit Sam Wanamaker in February, where composer and musicologist Claire van Kampen's fragile and beguiling play was first seen, Rylance doesn't so much act as exhale his performance, which is lit from within by the joy he takes in the baroque operatic arias sung by the castrato Farinelli.
And, as before, these items – five of the seven by Handel, three from Rinaldo, sung in Italian (no sur-titles) by the great counter-tenor Iestyn Davies (and at other performances by either Rupert Enticknap or Owen Willetts) – define both the Italianate commedia dell'arte style of John Dove's exquisite production, and the emotional swings of the king between turbulence and serenity.
The cockpit intimacy of the Wanamaker is replicated as far as possible, but mostly at the front of the small auditorium. Jonathan Fensom's design of candle-lit chandeliers, onstage boxes (containing customers) and painted backdrops is a treat in itself, and Rylance's feather-light blathering is buttressed by the concerned attentions of his wife, Isabella (a lovely performance, that has grown immeasurably, by Melody Grove), his doctor (Huss Garbiya) and the impatient chief minister De la Cuadra (Edward Peel), desperate to see the king back in the saddle for war.
Rylance arming and saddling up on a wooden horse is a glorious and painterly baroque climax. Farinelli descending from the skies scattering gold petals is a nod to the theatre of Monteverdi and Cavalli. Just as the king is bipolar, divided, so is the singer, who is sung by Davies but spoken, in identical costume, by a troubled, introvert Sam Crane. And the axis between them is policed by the librettist Metastasio (Colin Hurley), opening an opera house in London while trying to lure Farinelli back to the boards.
If the play celebrates the healing, consoling powers of great music – Philippe V commanded Farinelli to sing to him every day for a decade – it also makes the point that even the most rarefied art isn't élitist, or shouldn't be. "Who are these people?" Rylance asks, surveying the audience. We are the peasants who have congregated with him, the rococo Johnny Rooster, in the forest to punch holes in the sky and listen to the music of the spheres.
Farinelli and the King runs at the Duke of York's Theatre until 5 December.