Evita (Tour – Theatre Royal, Plymouth)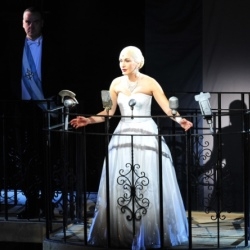 I'm going to be so unpopular but … I just didn't enjoy my first meeting with the Andrew Lloyd Webber–Tim Rice blockbuster Evita.
The latest revival, currently on tour, is directed by Bob Tomson and Bill Kenwright and received standing ovations, but I'm afraid I found it tedious, one-dimensional and soulless.
I've said it now, so on to the detail of the good and not so good.
In a difficult part, the much-feted Marti Pellow (Wet Wet Wet, BRIT and Ivor Novello award-winning singer/songwriter) is a brooding, omniscient presence as Che (presumably not Guevara – despite sporting the iconic fatigues and beret – as that would be just too confusing), providing wry narration and shifting furniture between cameos as Everyman.
Pellow opens his vocal evening in what seemed to be a race with the musicians for the fastest finish to "Oh What a Circus". But his breathy and staccato delivery was left behind in a pacy and dramatic "And The Money Keeps Rolling In" with a superb sustained final note.
Madalena Alberto (Les Mis, Piaf) is somewhat nasal and brash of voice as Eva, portraying the social climber who will sell her soul (and other charms) for fame and fortune while Mark Heenehan (Oklahoma!, Rocky Horror)'s rich dark register is mellow and rather constrained as Presidential cipher Peron.
Nic Gibney (Rocky Horror, Mexican Hayride) is a swinging Magaldi whose "On This Night of a Thousand Stars" is a welcome easy beat piece bringing light relief from somewhat wordy, strained story-telling, but stealing the show is Sarah McNicholas (Whistle Down The Wind, Teachers) as the Mistress whose meltingly sweet "Another Suitcase In Another Hall" is a showstopper. (As is the unnamed child soloist.)
Bill Deamer has devised some stunning choreography for a competent ensemble, who strut their stuff through military parades, Latin hoe downs, racecourse snobbery and more. Excellent.
There is no doubting the atmospheric design skill of Matthew Wright, whose sweeping sets belie the fact this is a touring show, but the pillars rising and falling more often than Evita's nether garments is somewhat irritating.
Musical director Matthew Loughran conducts a nine-piece 'orchestra' in which Nick Rees's swooping electric guitar is of particular note – but I kept hearing parts of Jesus Christ Superstar throughout the mainly (with notable exceptions as above) uninspiring score.
Pedestrian for the most part.
– Karen Bussell