Emma Rice announces details for final season at the Globe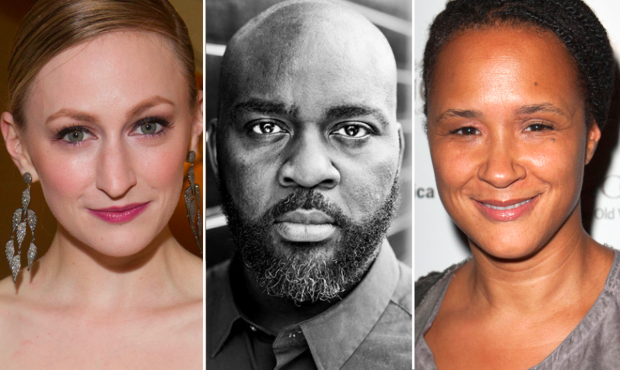 Emma Rice has announced details for her final season at Shakespeare's Globe. Explaining the title of the season, Summer of Love, Rice said she was looking at the album cover for The Beatles' "Sgt Pepper's Lonely Hearts Club Band", and realised it was released 50 years ago in 1967 – the summer of love, also when Rice was born.
She added that part of the reason she has stayed at Shakespeare's Globe, after the board's decision not to renew her contract, was down to this season. She said "This is really what has carried me through a very tricky time."
The season begins with Daniel Kramer's production of Romeo and Juliet in April, starring Edward Hogg (The Tempest, Globe) and Kirsty Bushell (Torn, Royal Court) as the play's star-crossed lovers.
Continuing the Globe's recent trend of gender-blind casting, Golda Rosheuvel (A Pacifist's Guide to the War on Cancer) will play Mercutio
The cast also includes Ricky Champ (Love's Labour's Lost, RSC) as Tybalt, and Martina Laird (Shakespeare Trilogy, Donmar) as Lady Capulet. Harish Patel (Rafta, Rafta, NT) will play Friar Lawrence, with Blythe Duff (The James Plays, NT) as the nurse.
They are joined by Jac Adu-Sarkodie, Siobhan Athwal, Tim Chipping, Keith Gilmore, Jonathan Livingstone, Sian Martin and Gareth Snook.
Talking about the production, incoming ENO boss Kramer said: "Romeo and Juliet feels so incredibly important right now, especially with Donald Trump being the pinnacle of 12,000 years of the white male patriarch.
"I was looking at these mirror images of very wealthy families, and it feels like a sad and horrific reflection of disgruntled American youth, disgruntled British youth, disgruntled Islamic youth. This new generation who are disillusioned with capitalism, greed and all the illusions we've created and turn towards emotional and physical violence."
In May, Rice directs Twelfth Night, which she says will be like 'a cross between The Love Boat meets Maggie Thatcher.'
The cast includes drag performer Le Gateau Chocolat (George Ikediashi) as Feste, Carly Bawden (wonder.land, NT) as Maria, and Anita-Joy Uwajeh (Fury, Soho Theatre) as Viola.
John Pfumojena (Peter Pan, NT) will play Sebastian, Joshua Lacey (Imogen, Globe) as Orsino, Katy Owen (A Midsummer Night's Dream, Globe) as Malvolio, and Annette McLaughlin (Billy Elliot) as Olivia. They are joined by Marc Antolin (Peter Pan, NT) as Sir Andrew Aguecheek, and Tony Jayawardena (Bend it Like Beckham, West End) as Sir Toby.
The full cast also includes Nandi Bhebhe, Pieter Lawman, Kandaka Moore and Theo St Clair.
When asked if she planned to continue her drive to achieve gender parity at the venue, Rice said: "Absolutely. It gets easier and easier actually. Sometimes it's harder with new work, but these plays are so porous and malleable – as proved by the four centuries of retelling.
"So I think it's now accepted, certainly in this regime, that that's what we are going to do and we do it with joy and great pleasure."
Director Matthew Dunster revealed his production of Much Ado About Nothing, which runs from 14 July to 15 October, would be set in Mexico during the first wave of the revolution in 1910. Whilst not commenting on any potential building of walls, he said now was an important time to be celebrating Mexican culture, which will be reflected in everything from the casting to the food being sold at the venue.
Other productions announced as part of the season include a return of Jessica Swale's Nell Gwynn (2 to 13 May) with Laura Pitt-Pulford in the titular role, King Lear directed by Nancy Meckler (10 August to 14 October), and Boudica a new play by Tristan Bernays and directed by Eleanor Rhode (8 September to 1 October).
Rice did not go into detail about her recent shock announcement that she would leave the Globe after just two years, but she did say that the new season would be full of the lighting and sound innovations which became a defining aspect of her first year in charge.
Romeo and Juliet runs from 22 April to 9 July and Twelfth Night runs from 18 May to 5 August