Did the critics think Colin Morgan was lost in Translations?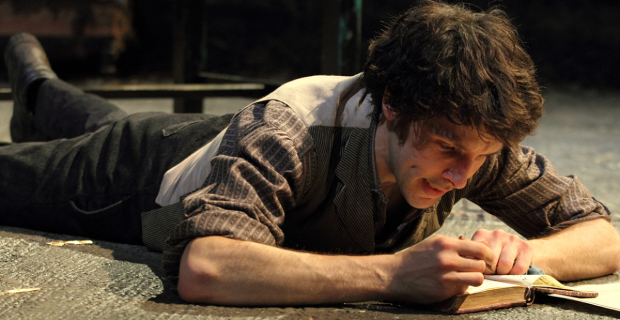 ★★★★
"By foregrounding a cultural battle over a physical one, director Ian Rickson does rob the play of its present-tense exigency. Rufus Wright's bumptious Captain Lancey and his intellectually curious orthographer Lieutenant Yolland (Adetomiwa Edun) are rewriting, and so reshaping, Ireland's landscape right now."
"In cultural terms, Rickson uses the Olivier stage to highlight Friel's Shakespearean allusions, which only show up because his plays have survived. As Yolland and Maire woo one another with town names – the only language the two of them share – Edun and Roddy could be pastoral lovers, while Ciarán Hinds' Hugh, so imperious in his classroom, and Dermot Crowley's semi-senile Jimmy Jack, shelter from a storm like Lear and his Fool.
"In hindsight, the hedge school itself seems like an Arden – a clearing where cultural exiles come together to exchange words and ideas. We know that, in time, Irish itself will be endangered. Friel's writing, meanwhile, deserves preserving."
★★★★★
"Everything about the production feels meticulously planned. The performances are also excellent. Ciarán Hinds could do even more to savour the Latin tags Hugh so loves, but he captures perfectly the character's tattered majesty. Colin Morgan as Owen embodies the guilt of a man caught in the crossfire between two cultures."
"Judith Roddy as Maire, clinging to the one anachronistic English phrase she knows about Norfolk maypoles, and Adetomiwa Edun as Yolland play their love scene exquisitely – like two people reaching out to each other through the thickets of language. Fascinatingly, that idea is echoed in the scenes between Seamus O'Hara as Owen's elder brother and Michelle Fox as a rural waif with a speech defect that inhibits communication of her feelings."
"That, however, is simply one element in a play that defies categorisation and is richly realised in a production that (along with Follies, also staged by a former director of the Royal Court) is one of the best things to have emerged from the National Theatre under Rufus Norris."
★★★★
"There's an obvious topical resonance in the play's images of a divided country and contested borders. Rae Smith's boggy design with its swirling mists and murky clouds looks like a war zone. Yet director Ian Rickson needlessly adds a closing scene that labours this significance."
"Colin Morgan makes an absorbing National Theatre debut…The star of TV's Merlin and Humans is a shape-shifter, which means he's ideal as a character who's both a go-between and a lost soul. But this is really an ensemble piece, a close-up picture of history in the making."
"It takes some time to tune into Friel's particular brand of finely wrought understatement. But this account of what's perhaps his best play savours its rhythms, and that's crucial because at root it's a vision of the power of language."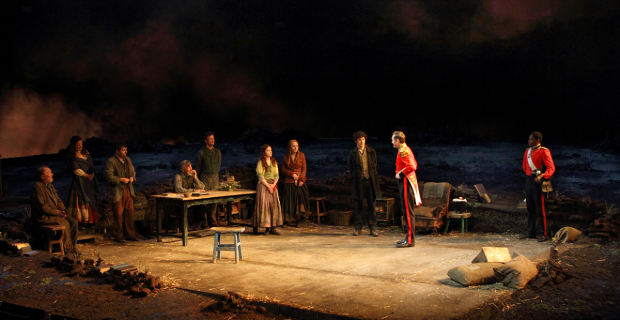 ★★★★
"It comes alive when Ciarán Hinds steps on stage as the shambling, raging, charismatic schoolmaster Hugh, constantly barking at his students to tell him the derivations of Latin and Greek words. When he moves his head his shoulders and torso move with it, as if his back has been stiffened from drink and rain. Hinds has a way of bellowing quietly that makes him a force on stage."
"Under Rickson there's a minute pause between each word, which not only allows Friel's musical script to be heard in the vast Olivier space, but seems also to be a deliberate directorial choice about the cherishing of language. These lines are rolled around the mouths of the actors with care, so that the details of the language match the detail of the production – from the mud around the ankles of the soldiers' otherwise pristine uniforms to the raindrops that fall precisely into buckets from the school's leaky roof."
Other than that, there's no flash, no gimmickry. But, like the fog that hangs in unmoving sheets over the stage, imperceptibly thickening throughout, Rickson's production grows dense with meaning and melancholy."
Andrzej Lukowski, Time Out
★★★★
"Friel has provided the special effects in the language – in a way all a cast needs to do is not screw them up. This they surely don't: Rickson's revival is awash with talent, foremost Hinds as the shambolic but shamanic Huge, and the charismatic Colin Morgan as Owen, whose burning intelligence and passionate love of language has driven him towards the British, not away, as he enthusiastically aids a mapping project whose deeper consequences he cannot predict."
"Rickson and designer Rae Smith know that this is one in which the text takes centre stage. But what they have really brought to the table with their detailed, sepia-toned production is a sense of intimacy. The temptation with the Olivier is to make everything MUCH BIGGER; here in fact, it feels as personal as in the Dorfman, the action virtually all taking place within a few square metres at the front of the stage. Smith uses the space to create a sense of rural Ireland's expanse, but she limits it, too – a constant veil of mist conceals the height of the ceiling."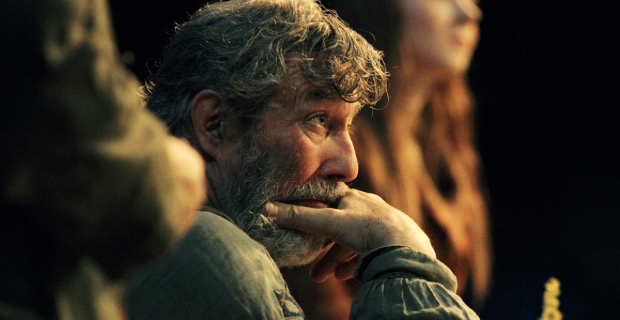 ★★★★
"It takes a while to get going — much of the first of its three acts is set-up — yet Friel loves words too much to waste them: pretty much everything finds a payoff in the comical tragedy of what follows, as futures get wasted and lives get lost, as tradition fights a losing battle with progress. It's not a play that really needs the huge sense of scale that the National's largest auditorium gives it. It is, nonetheless, a welcome success for the Olivier after a patchy year or two."
"Rickson inserts a neat final image that links the troubles of 1833 Co Donegal to the Troubles a century and a half later. Yet Friel also gives us such richly drawn characters that nobody is relegated to just being a mouthpiece for a single point of view."
★★★★
"This terrific, unfussy new production allows the audience to unpeel its own meaning, and the result is a simple but effective rendering of Friel's lyrical, deeply moving work, focusing on the spoken word and the psychological realism of its characters."
"Ciarán Hinds, fresh from theatrical success in Girl from the North Country, is captivating as Hugh, showing a man simultaneously aware of his own consequence as a big fish in a small pond, and critically aware that this is all about to change. Equally strong is Dermot Crowley as Jimmy, a sort of Fool to Hinds's Lear, who has been turned from "scholar to barbarian" by the arrival of the British, and notices with a fair amount of grim humour that he will soon be fluent in three dead languages."
"As the lovers flirting across cultural boundaries, Judith Roddy and Adetomiwa Edun are fresh and vigorous, speaking every word with a slow precision as each tries to understand the other's native tongue."
★★★★
"One of the most striking elements of the production is the staging. Designer Rae Smith cleverly constrains the action to the small school, marked simply with a low wall. The remainder of the vast, sloping Olivier stage is scraggy grassland over which mist slowly unfurls. Lighting designer Neil Austin's broad sheets of light cut through the swirling haze, illuminating an enchanting countryside."
"The cast are also excellent in bringing an authentic slice of rural Donegal to the London stage. Colin Morgan excels, but the standout performance comes from Game of Throne's Ciarán Hinds as the ruddy and defiant Hugh, and Adetomiwa Edun as Lieutenant Yolland, whose bashful idealism enlivens every scene."
"This thoughtful revival is a reminder of the complicated legacy of colonialism, and suggests that taking the time to better understand one another could be the key to progress."