Did critics think All About Eve was all the rage?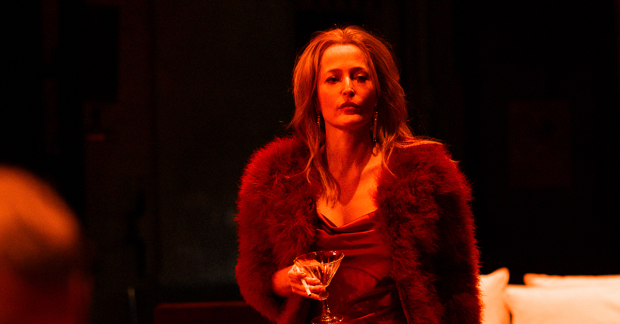 ★★★★
"It begins, like the movie, with the honey-voiced critic Addison DeWitt ("as essential to the theatre as ants are to a picnic") setting the scene and telling us Eve has won a prize. Then, as the story unfolds backwards, [director Ivo] van Hove reveals his brilliance. Superfan Eve, in the glamorous shape of Lily James, is lurking outside the theatre where Margo is performing. As Margo's friend Karen (Monica Dolan) ushers her inside, Jan Versweyveld's terracotta box of a set rises to reveal backstage clutter, a mirror with bright lights and huge portraits of the star set against the brick walls."
"What saves the evening is [Gillian] Anderson, finding a way to banish Davis' shadow, with a performance that is full of flickering nuance. She manages to say more with a curled lip and a slight shift of her eyebrows than a film of her vomiting down the loo ever could; her scripted putdowns, often delivered more in sorrow than anger, are punctuated by perfectly pitched pauses."
"It is a good evening in the theatre, but some essential spark is missing. I will always remember Anderson as Margo, but I can't help longing for van Hove to give up on remaking movies and return to rethinking plays."
★★★
"This is not to deny that the actors do a good job. Even if it is hard to accept Anderson as a fading beauty, she invests Margo with a slow drawl and a pensive awareness of her own dispensability: she's less of a testy termagant than Bette Davis but more vulnerable in the style of Tennessee Williams's Blanche Dubois."
"The use of technology is admittedly sophisticated. At a celebrated Stork Club dinner party a ferocious encounter in the ladies' room between Eve and Karen, wife of a famous playwright, is projected on to a screen as it happens: at the same time we see the subjects of their debate swilling champagne downstage. But there is a palpable irony to the fact that we are always conscious of watching a piece of director's theatre. This is very much Van Hove's show, whereas All About Eve depicts a vanished theatrical world where sacred monsters like Margo Channing ruled the roost and the writer and director were seen as totally subservient."
Andrzej Lukowski, Time Out
★★★★
"All About Eve works terrifically, in part because the cast and script are excellent, in part because Van Hove's usual box of live video tricks is so apt for a story that always felt half of film, half of theatre. What I really liked was the woozy ambience of it all. Soundracked by dreamy instrumental music – and a couple of songs – courtesy of PJ Harvey, it feels reflective of and sympathetic to Margo and Eve discombobulation in an industry in which they are ultimately forced to fight bitterly for every step forwards."
"Van Hove's trickery clearly won't be for everyone, but there's something pleasing about that – you don't often get such leftfield directors making work specifically for the West End, and it's very rare you see them doing so with such total self-assurance. Whatever the case, you probably came to look at Gillian Anderson's face, and there's no chance you'll be disappointed on that score."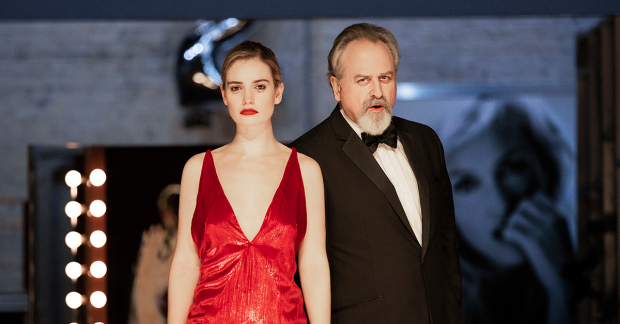 ★★★
"The casting of Anderson as Margo is one of the production's greatest strengths. She is simultaneously brittle and radiant, poised yet fragile, while Dolan, as a woman who inadvertently sabotages both her friend's career and her own marriage, provides another reminder of what a great actor she is."
"Lily James, though, is less compelling in the role of the manipulative, ambitious Eve. The production never lets us get under her skin. Eve should drive the narrative, instead she feels secondary."
★★★
"The two co-stars tread with reasonable adroitness in the hallowed footsteps of their predecessors. Anderson, svelte and glowering, exudes first boredom then fear, communicates wariness well with just a poisonous glance. But we don't get the kind of close-ups that maximised Davis's magnificent drowsy disdain. For her part, James – slinking about but denied the filmic finesse that could capture her stealthy voyeurism – visibly blushes when caught caressing her mentor's stage-gown but she lacks the peculiarity manifest in Baxter's eerie, polite deadpan.
"Elsewhere, there's a stand-out supporting performance from Monica Dolan as Margo's turncoat confidant Karen, and no one disgraces themselves. It's all just rather so-so, efficient and uninspired, even down to PJ Harvey's quietly wailey compositions. All About Eve in colour, then, but somehow grey. Just About OK."
★★
"Mostly, the cast is fighting against a muddled multimedia staging that flattens out this witty showbiz melodrama into a kind of narcotised dream. Anderson is made to merge into the reddy-brown colour scheme that dominates Jan Versweyveld's set. Everyone is miked up and competing with a sound design, by Tom Gibbons, and music, by PJ Harvey, that's atmospheric to the point of distracting. Nobody, but nobody, acts badly. Yet nobody, but nobody, sells you on the idea that this is any kind of an upgrade from a movie you can rent for £3.49 on YouTube."
"Harvey writes a haunting song for both leads, sung in a fragile but affecting way by Anderson. Dolan is the strongest presence here, while Stanley Townsend impresses (as usual) as Addison DeWitt, the urbanely omnipotent theatre critic. It's not his fault that George Sanders played the role even better before. This is what theatre should not be: a paler, pricier version of going to the cinema."
★★★
"The involvement of Belgian director Ivo van Hove guarantees a high level of technological wizardry. True to form, he uses roving camera operators to film the characters' private moments. When we see their faces in intense close-up, we can observe their desires growing darker, and there's some impressive trickery with mirrors that highlights the morbid effects of ageing."
"There's skilful support from Rhashan Stone and Julian Ovenden. Monica Dolan is razor-sharp as Karen, the friend who accidentally damages Margo's career, and Stanley Townsend has a finely controlled menace as theatre critic Addison DeWitt, whose suave manner conceals a violent possessiveness."