Did Alan Bennett have the critics crying Allelujah!?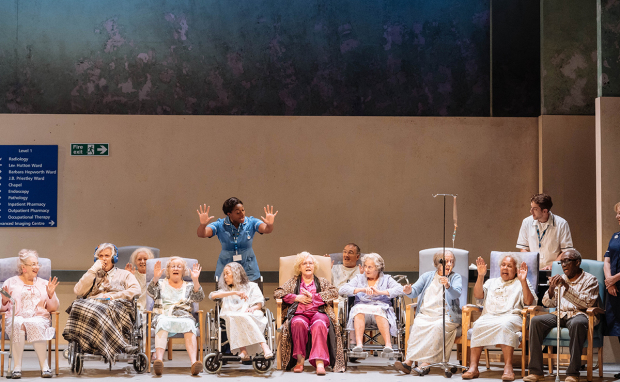 ★★★★
"There are certain baseline expectations of a new play from Alan Bennett that mean he never disappoints. There will be some well-crafted jokes, often involving Yorkshire towns. There will be a sharp-eyed delineation of Englishness in all its eccentric variety. And there will also be some provocative political thinking, a sense that there are values worth clinging to that are in danger of being lost."
"Bennett's craft as a writer, the way he slides effortlessly from the comic group scene to the single, telling moment is always apparent. Two stunning scenes could only have been written by him. In the first, Lucille and Mavis (lovely Patricia England) reminisce about the joys and disappointments of marriage, ending with the dying fall of "still it was better than this." In the second, Joe tries to talk on the telephone to his son, who is in a box at the opera with the Health Secretary. "Does he like opera? Well why does he go then? Pharmaceuticals? Do they like opera?""
"There is arguably too much going on for any character to emerge fully-drawn, and some of their characteristics are disappointingly caricatured, but Hytner keeps everything going with ease and aplomb. And Bob Crowley's simple set, with sliding panels recreating the wards, and a faux Monet Water Lilies above the grimly institutional walls, is immediately recognisable to anyone who has spent even an hour as a hospital visitor."
★★★
"Another problem is that the play simply contains too many characters. They don't have room to grow and a great deal of the play feels like collage. Some are great but underdeveloped, like Jeff Rawle's Thatcher-bashing ex-miner Joe, while others are a bit muddled, like Joe's son Colin, a progress-pushing slick young Tory, played by original History Boy Samuel Barnett."
"…there are some wonderful musical interludes by the geriatric choir, set to George Fenton's lovely arrangements with the simple, joyful choreography by Arlene Phillips. At its most effective the play hones in on the moments of care and kindness that still manage to exist, even within a target-driven, throttled hospital system."
"As so often before, what feels like a big Bennett hug, a sweet plea for the value of elderly lives, actually hides a cutting political edge. As one nurse points out, none of the patients should be sticking around long enough to form a choir. That's where the politics enter."
"Perhaps the play is saying that financial pressures, lack of resources, overwork and the imperative of meeting targets all combine to make [the play]'s dark scenario more likely. It certainly makes it very clear just how vulnerable people are at the end of their lives. But it feels a bit jarring."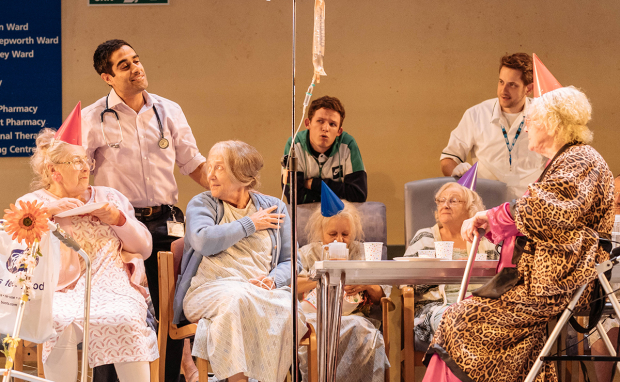 ★★★★
"Even if individual characterisations could do with being fleshed out, overall there's something inspiringly defiant about placing centre-stage those who lurch on Zimmers, loll in wheel-chairs – too often banished from society's view."
"The play may not be a patch on The History Boys, yet as the child-like geriatric gaggle finally troop off, the healing power of music again magically sloughing off the trappings of age and mental decay, I felt as stirred as I was by Bennett's portrait of youth looking to the future."
"Even the most reverential admirer of this mild-mannered creative colossus may at times be caught between feeling "thank heavens" and "what the hell?"."
Andrzej Lukowski, Time Out
★★★
"You wouldn't necessarily say there was a plot, though: there are simply too many characters, many little more than tart ciphers (see Samuel Barnett's s**thead civil servant, Colin). Successfully luring his long-term collaborator Bennett over to his new Bridge Theatre, director Nicholas Hytner's keeps things as coherent as he can, but the first half largely coasts off the author's towering wit."
"In a sense it's difficult to know how to judge late Bennett, when the temptation is to simply be delighted he's making work at all. Allelujah! isn't one of his great plays, but it's hopefully not indulging in sentiment to say it is a pretty good one once it gets going. He remains a totally singular voice, and – crucially – extremely funny. As it picks up steam, Allelujah! feels less like a gentle comedy, more like a quiet curse on the country Bennett has chronicled his entire life."
★★★★
"In this richly discursive play, Bennett hits his own chosen targets. An immigrant doctor, depending on a student visa, is threatened with deportation and rebuked for his hands-on care. The hospital's attempt to survive is tied up with publicity gimmicks and the renaming of wards after pop stars. There is even a brutal logic to Sister Gilchrist's determination to ensure the ward has a rapid turnover.
"But, this being a Bennett play, there is a wealth of good jokes and a deceptive patina of nostalgia. The classic songs, arranged by George Fenton and sung by the patients, are proof of the durability of age and a poignant reminder of a lost happiness."
"In a 25-strong cast there are some fine performances. Deborah Findlay as the criminally efficient Sister, Peter Forbes as the self-aggrandising Salter, Samuel Barnett as the post-Thatcherite Colin and Sacha Dhawan as the precarious immigrant all impress. Among the patients Julia Foster as an ex-librarian, Jeff Rawle as the old miner and Simon Williams as the scholarly teacher stand out. It is also touching to note the presence of Cleo Sylvestre, who played a young nurse in The National Health, to which Bennett's play provides an invaluable companion-piece in its ability to find in a hospital a microcosm of modern society."
"There is no denying that, despite its obligatory quota of Bennettian puns and quips, Allelujah! is the most openly angry play of this master satirist's career. Though his portrait of a local cradle-to-grave hospital under threat of extinction has a surfeit of plot strands — including a murder mystery — it is above all a forum for Mr Bennett to rant against his uncaring nation."
"Righteous wrath is known to energize theater. (Think of Look Back in Anger.) Yet Allelujah! often feels oddly phlegmatic, as if sagging under the surfeit of everything it wants to say."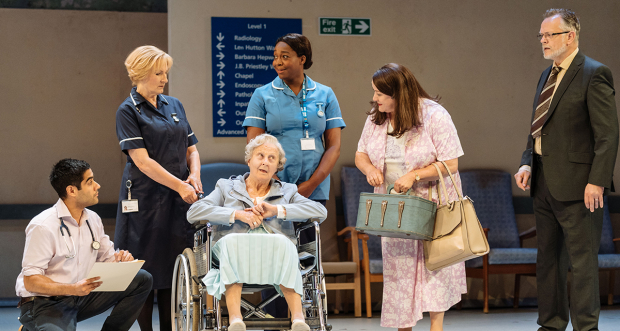 ★★
"That focus comes and goes in an evening that feels every minute of its two-and-a-half-hours. It's usually a bad sign when a documentary crew is used as a theatrical device. It allows the characters to explain themselves without the writer having to get the story started."
""Preaching is forbidden" in plays, Bennett argues in his (fabulous) programme notes, but Allelujah! strains at that leash. There is a plot hidden inside that could have held all these ideas together. A mercy-killer is loose. And when that plot is given some air Bennett finds a heightened way of addressing his issues through the prism of one character. Much better. And then we return to something more predictable.
"Hytner does a fine job. The acting is excellent. Bob Crowley's bare-stage set transforms swiftly into corridors and wards. It has its moments. Yet it's a show that dawdles, then stops to jab you in the stomach with a point it wants to make."
★★★
"…while there's plenty of mordant humour, along with a few knowingly moth-eaten gags to tickle Bennett's long-time fans, the writing lacks focus. There's a mix of thematic heavy-handedness and improbable contrivance, and the main characters are thinly drawn, though it's refreshing to see a new play so replete with parts for older actors."