Comedy of Errors (Theatre Royal, Plymouth)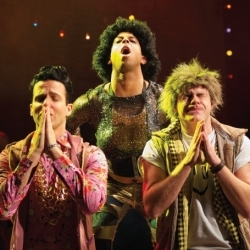 PROPELLER is back with a quirky double comedy offering: A Midsummer Night's Dream and Comedy of Errors.
MND opened in Plymouth in November last year and this take on Comedy of Errors was last in town three years ago but is seared on the memory as if it were last month.
Ed Hall sets the piece in a fairy light-illuminated Costa del Sol-type Ephesus full of blokes in football shirts and sombreros playing mariachi music (very competently and even during the interval), bunny girls and sellers of all things bling.
Into this party atmosphere two sets of twins (identical even in their names) separated as children in a shipwreck are dropped along, coincidentally, with their estranged father causing mayhem and complications.
An out and out farce, the all-male cast play Comedy of Errors for laughs with daft musical effects, larger-than-life characters, slapstick galore and freeze frame moments for asides. Wheelie bins, entry phones, dominatrix abbesses and evangelical exorcists play their part in a pacy, breathless, knockabout whirl.
Silly and over-the-top – pantomime at its best – and once any highbrow notions are abandoned by the audience, very funny.
Michaela Pavelka's set is simple – not much more than a couple of doors (as required by any self-respecting farce) and a moving vestibule with Ben Ormerod's lighting ringing the changes.
Dan Wheeler and Joseph Chance play the twin fun-loving Antipholuses with Will Featherstone and Matthew McPherson their long-suffering and somewhat mouthy twin slaves.
James Tucker is a believable harridan Adriana while Arthur Wilson is superb as the demure but Mace-wielding, martial arts aficionado Luciana.
Added to this mix is a plethora of characters – the leggy whip-wielding nun with a past, a lurex-clad woman of dubious intent and a secret under her bunny-ears (and probably more but let's not go there), Angelo the slimy goldsmith (slurkily played by David Acton), Pinch the conjurer with magic at his fingertips and a credit card machine in hand – to name but a few.
But between the squeaky leather trousers of the Latin lover officer and the ludicrous Star Wars light sabres there is a heap of good interpretation of Shakespeare. Clear and up-to-date – that awful word 'accessible' springs to mind but it is and good for Propeller.
– Karen Bussell