Christopher Eccleston in A Christmas Carol at the Old Vic – first look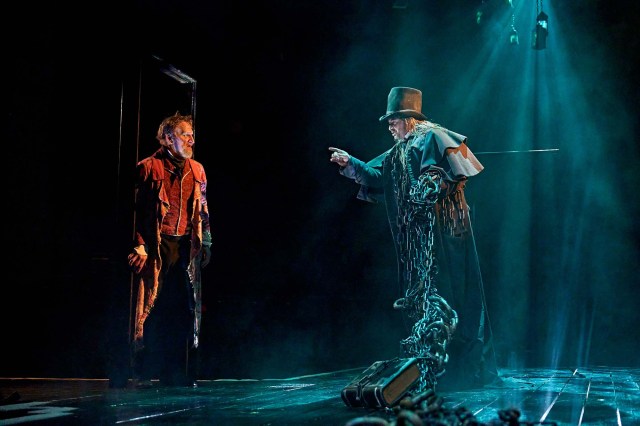 The Old Vic has released production images featuring Christopher Eccleston in A Christmas Carol, directed by Matthew Warchus and adapted for the stage by Jack Thorne.
The production is set to run to 6 January 2024 at the venue, with a press performance scheduled for 22 November 2023.
Eccleston takes on the role of Ebenezer Scrooge, while joining him are Jeremy Batt as Swing, Rob Compton as Bob Cratchit, Geraint Downing as Ferdy/George, James Hume as Nicholas, Hana Ichijo as Jess, Jessica Joslin as Mrs Cratchit, Julie Jupp as Ghost of Christmas Past, Gemma Knight Jones as Ghost of Christmas Present/Mrs Fezziwig, Andrew Langtree as Father/Marley, Matthew Maddison as Young Ebenezer, Frances McNamee as Belle, Rachel Moran as Dance Captain/Swing, Alastair Parker as Fezziwig, Rose Shalloo as Little Fan, and Samuel Townsend as Fred.
Additionally, the role of Tiny Tim is portrayed by Casey-Indigo Blackwood-Lashley, Alexander Joseph, Freddie Marshall-Ellis, and Freddie Merritt.
The production has set and costume design by Rob Howell, composition and arrangement by Christopher Nightingale, lighting by Hugh Vanstone, sound by Simon Baker, casting by Jessica Ronane CDG, movement by Lizzi Gee, musical direction by Alan Berry, voice by Charlie Hughes-D'Aeth, and dialect by Penny Dyer. The associate director is Josh Seymour, and the second associate director is Simon Greiff.
The Old Vic is supporting the charity City Harvest London during the run of A Christmas Carol. Donations will be collected at the end of every performance to aid the London-based charity in its mission.