As You Like It at Shakespeare's Globe – review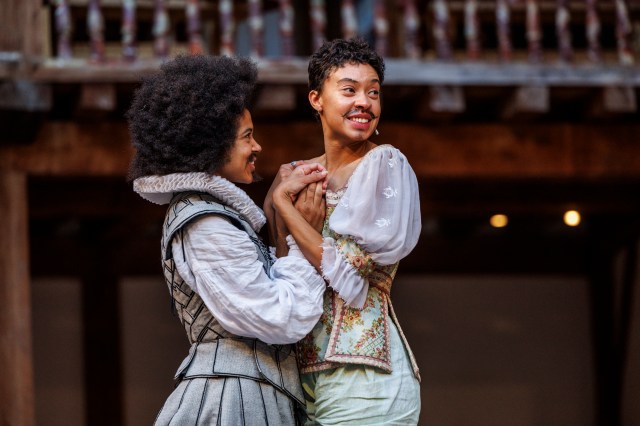 There is a clear separation in Ellen McDougall's new As You Like It at Shakespeare's Globe – the stuffy and conformist world of the Duke's Court, and the inclusive and embracing world of the Forest of Arden. A very distinctly single-minded desire seems to ensure that diversity is the watchword for this, already most gender-flipped of Shakespeare's works, and in the main, it works well.
Set upon a bare Globe stage, McDougall has assembled a small but impressively diverse company of performers. She plugs into the space with an unfussy skill and sets Orlando's wrestling match right in the middle of the Yard amongst the Groundlings and uses the theatre for her cast to move around freely. Lovelorn Orlando uses the great oak structures of the auditorium to pin his love letters for Rosalind, weaving through the crowd as he does. It's what the Globe is great at.
Sadly, amongst the actors, there are too many inconsistencies of voice and there are chunks of verse that are almost inaudible, such is the mumbling of speeches and garbling of words. Likewise, the comedy lands harder for some than for others and it makes for a production that is as mismatched as the worlds of Court and Forest.
Thankfully there is more to enjoy than to not and it is Nina Bowers' Rosalind that lifts the evening and deftly swoons and cajoles with far greater clarity of speech. Bowers cuts a dashing figure as the disguised Ganymede and leans nicely into the fluidity of those romantic moments with her/his Orlando. Macy-Jacob Seelochan's wonderfully sardonic Celia perfectly offsets Rosalind's spirited exuberance. As Celia turns to her "poor and mean attire" she plucks a baseball cap from a groundling's head. It's a terrific match.
Tonderai Munyevu's warmly exotic Duke Senior is the all-embracing figure of the Arden community. He revels in the beauty, non-conformity and queerness all around him. Emmanuel Akwafo is a majestic and ethereal Amiens as he wafts around the stage in taffeta. Yet there is frustratingly little else to transport us to Arden and that bare stage seems all the emptier because of it. Max Johns therefore does a lot of the heavy lifting with his costume designs that add an & Juliet-style twist to the traditional doublet and hose.
Alex Austin's Jacques is a modern twist of melancholic merriment with more than just a touch of saltiness over world-weary cynicism. His seven ages of man is delivered slowly and deliberately, but somehow doesn't quite land as coming from somebody that has more heartbreak yet to experience. Stephanie Jacob gives a small but standout performance as faithful old servant Adam. Jacob provides a captivatingly brief moment of both comedy and subsequent heartache with a blink-and-you-miss-it role. It's quite beautiful though.
Musical moments are interlaced throughout with a camply choreographed pop-vibe that uses some original music as well as dollops of the more familiar (of course it should be Bruno Mars that accompanies the wedding). This jarringly interferes, however, and is often poorly executed as the cast members somewhat self-consciously participate. Nevertheless, it does all add to the party atmosphere and the crowd love it as they clap and sing along.
The Globe is leading the way in terms of inclusivity and shows an impressive commitment to making Shakespeare feel relevant and open to a diverse audience and performing company. However, the play is always the thing and most of all we want to be able to hear those words and come along for the ride as well.