Annie Get Your Gun at the Lavender Theatre, Epsom – review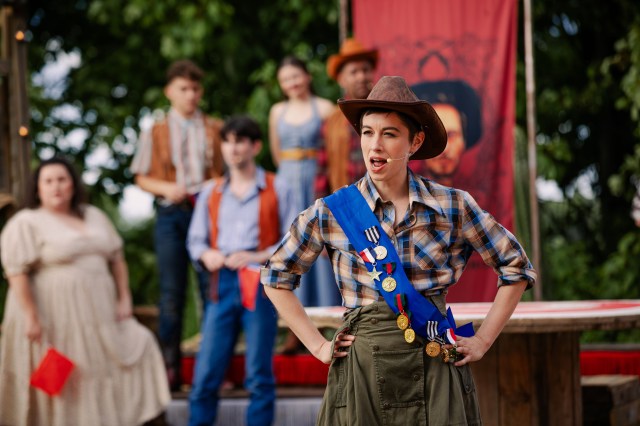 Opening a new outdoor theatre at a time of global financial uncertainty and national austerity might seem a little foolhardy, even when it's in the comparatively affluent home counties town of Epsom, but it also feels like a joyful little win for arts lovers. Actually, when the inaugural production is as delightful as this smashing revival of Irving Berlin's Broadway classic Annie Get Your Gun, it becomes cause for full on rejoicing.
Set amongst the verdant copses and rolling pale purple fields of Mayfields Lavender Farm near Epsom Downs (and yes you really can smell the flowering plants from your seat), this new venue has a charmingly makeshift feel, consisting as it does of a stand of covered seats and some grassy banks surrounding a large open playing area. Director-choreographer Simon Hardwick's caffeinated take on this sharp-shooting, foot-stomping 1946 American musical warhorse looks right at home under the painterly skies: the flatness of the landscape in this particular part of Surrey makes the sky seem especially big, which entirely suits this show.
The combination of the rustic, barebones stage (all banners, barrels, ladders, wooden panels and platforms), the fabulous energy of the company and the magnificence of the surrounding countryside recalls the spontaneous "hey kids, let's put on a show!" feel of the old MGM Mickey Rooney and Judy Garland movie spectacles. This seems entirely appropriate for the tale of gun-toting backwoods girl Annie Oakley who becomes a star when she joins Buffalo Bill's travelling Wild West show, also falling in love with her co-star and onstage rival Frank Butler, all of it peppered with some of the most archetypically Broadway showstoppers ever written: "You Can't Get A Man With A Gun", "Doin' What Comes Naturally", "I Got The Sun In The Morning", and perhaps the quintessential stagey anthem "There's No Business Like Showbusiness". This was Irving Berlin at the very pinnacle of his songwriting game; the tunes sparkle and the lyrics fizz.
The numbers come up covered in blue grass-tinged glory as played by Debbi Clarke's exquisite seven-piece band, visible throughout the show in a little marquee just behind the main stage. This production uses the revised Peter Stone book from the 1999 Broadway revival that starred Bernadette Peters, later Reba McIntyre, whereby the story is presented as a show within a show, with Elliot Broadfoot's wonderfully exuberant Buffalo Bill popping up in between sections to announce new locations and scene numbers. Although the revisal sometimes feels as though there's a headlong rush from one great song to another, particularly in the second half, and some of the characters' motivations and stances change with bewildering, not entirely convincing, speed, this is still the right decision for modern sensibilities.
Stone wisely excised the majority of the culturally insensitive material towards Native Americans in Herbert and Dorothy Fields's original script, and we are mercifully spared the excruciating "I'm An Indian Too" number from the before-times, which saw the caucasian Annie all dressed up as a 'Red Indian'. The Chief Sitting Bull character, who takes her under his wing, is still present however, played by Jay Faisca with an intelligent combination of gravitas and humorous twinkle. Stone also addresses the dated gender politics of the original with welcome, if occasionally clumsy, results.
Hardwick's production has terrific pace, energy and a commendable lightness of touch, and features stellar performances. SuRie is best known as a recording artist (and the 2018 UK Eurovision contestant) but proves herself an endearing musical theatre leading lady, delivering a turn of big-hearted charm and surprising complexity as Annie. Looking remarkably like a much healthier Anne Hathaway post-hair cut in the Les Mis movie, she accurately conveys the survivor's sense of rawness and pragmatism, and finds real emotional depth in her on-off relationship with the dashing Frank. Vocally, she's absolutely gorgeous, with a clarinet-like richness of tone, sweetness in her powerful belt, and subtle, masterful use of vibrato. The open-faced way she leans into the emotion of the ballads sometimes recalls a young Liza Minnelli. If her Deep South accent doesn't always ring true, that's a very minor cavil at what is a pretty astounding debut.
Charlie McCullagh's Butler is every bit her match, magnificently sung, sublimely funny, and with an intriguing hint of darkness and isolation beneath the womanising rock star swagger. The chemistry between the two stars is almost combustible, and their playful version of the crowd pleasing competitive duet "Anything You Can Do (I Can Do Better)" is an authentic showstopper. Chloe Hart does lovely, witty, mischievous work as a scheming sidekick with her own agenda, and Joseph Vella is an adorable, eye-poppingly athletic triple threat as the lovestruck juvenile male lead.
If there's an issue with the staging, it's that it occasionally feels a little over-choreographed, even though the dances are suitably rousing and exciting. A couple of the moves feel too contemporary, and there's a tendency to extend some numbers beyond their natural life, although Vella in particular is such a beautiful dancer, it's understandable why Hardwick wants to showcase him.
There's so much here to love, including the fun nods in the production to its unique surroundings. Note the way Adam King's colourful lighting design covers the tree that dominates the stage in a wash of lavender-hued illumination, and how when Annie and Frank shoot successfully, the gunfire is simulated by the sending up of red or blue flares but when they miss a target, the flares that get set off are the same purplish shade as the crops in the adjacent field. The rough edges in the staging are part of the magic, and the visual aesthetic works with, and is informed by, its setting.
Annie Get Your Gun hasn't been seen in London since the divisive Richard Jones reimagining for the Young Vic back in 2009, and this sassy, bouncy new version, and especially the tremendous star pairing in the lead roles, more than justifies the hour's train journey out of Victoria. This venue and show just feel like a great big labour of love for everyone involved: it's definitely a labour of love to visit and sit through it.