Bat Boy: The Musical (Southwark Playhouse)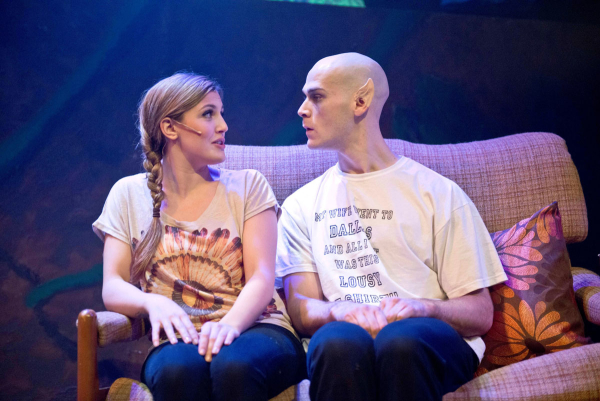 Forget super-heroes; this boy really
is
a bat. Well, partially so, as it seems, for the fangs are in the wrong place; but then again pointy incisors might be harder to sing through than canines. It's a tribute to
Rob Compton
's athletic vulnerability in the title role that for all his contortions and layers of Nosferatu-meets-Uncle Fester make-up he still manages to be so believable.
And we need all the help we can get to buy into this over-larded tale, which enjoyed a brief run at the Shaftesbury Theatre ten years back and now returns blest with camp cult classic status in a pretty good Southwark Playhouse revival.
While Bat Boy: The Musical inhabits the same landscape as shows like Little Shop of Horrors and Hairspray, it lacks their catchy chutzpah and often feels like grunge-by-numbers. For all its weirdness, the tale of a bat-like foundling who's taken in by the family of a kindly(-ish) West Virginian veterinary surgeon, learns to speak cut-glass English via BBC language tapes and attempts to overcome small-town prejudice, feels too much like a retread.
Laurence O'Keefe's score, which draws on gospel, country and rock pastiches, is insufficiently lyrical for the show to be an out-and-out hit. Time and again, intros that promise teeth-'n'-smiles or torch songs peter out into functional numbers with scant melodic interest. And while they're delivered with gusto (if too shriekily) by a talented cast and Mark Crossland's crack band, they're not helped by a congested sound design that would better suit a bigger space.
"a raucously enjoyable evening of dark comic fun"
That aside, Bat Boy: The Musical is terrifically well staged by Morphic Graffiti's director-designer team of Luke Fredericks and Stewart Charlesworth, who were responsible for last year's triumphant Carousel at the Arcola Theatre. They marshal dead-centre performances from a tireless multitasking company – are there really only ten of them? – with Lauren Ward, Matthew White and Georgina Hagen outstanding as the boy's surrogate family and Simon Bailey stealing the first chunk of act two as a revivalist preacher in a gold lamé dog collar. Their one lazy touch is a cheap sense of ridicule in the deep south accents of the hypocritical hicks who bay for Bat Boy's blood.
The show's real undoing, though, is its uncertain tone. Gleeful bad taste is one thing in a musical like this; screen depictions of rape are another. Benjamin Walden's video designs are witty, inventive and entertaining, but near the end, at the very point when the audience needs to root for its characters, they tip Keythe Farley and Brian Fleming's book over the edge from B-movie into Grindhouse.
For all its shortcomings, though, Bat Boy: The Musical is a raucously enjoyable evening of dark comic fun. "I shouldn't work my problems out with food" laments our vampiric hero, a raw cow's head dangling idly from one hand. While no animals are harmed in the making of this show, a fair few cuddly toys are seriously maimed.
Bat Boy: The Musical runs at the Southwark Playhouse until 31 January 2015