National Theatre of Scotland announces new 2019 season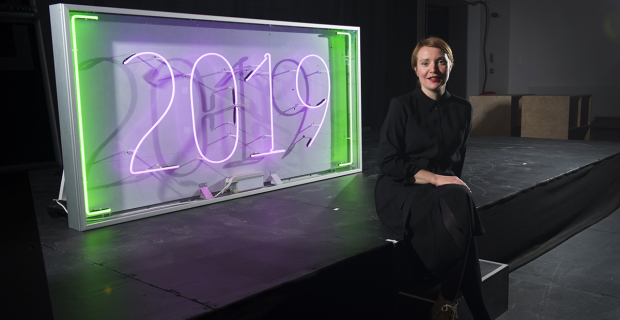 The National Theatre of Scotland has announced its new season, which includes an event produced to mark Scotland's scheduled exit from the European Union.
Six of the country's theatre-makers will create and present short performances which respond to the moment in Europe's history in Glasgow on the night of 29 March 2019. The evening is co-curated by Stewart Laing and Jackie Wylie. Adura Onashile, Nima Séne, Alan McKendrick, Angus Farquhar, Nic Green, and Leonie Rae Gasson will all contribute to the event.
Between 16 and 30 March 2019, Interference, a trilogy of plays, is to be performed in a Glasgow office block. Hannah Khalil,Vlad Butucea and Morna Pearson write the plays which are directed by Cora Bissett. The pieces look at the past and future of technology and how it is becoming more embedded in our daily lives and weaponised in ever more terrifying ways.
Them! is written by Pamela Carter, with collaborator Laing, and looks at the idea of identity in a changing world. The piece premieres at Tramway, Glasgow in June and July.
Tim Crouch's Total Immediate Collective Imminent Terrestrial Salvation will open at the Edinburgh Festivals in August 2019 before heading to Brighton and Lisbon. Directed by Karl James and Andy Smith, the piece explores manipulation and the nature of truth in an age of arch-political misdirection.
Jackie Kay's memoir, which traces the challenges she faced on the journey to discover the truth about her birth parents, is adapted for the stage by Tanika Gupta. Dawn Walton directs Red Dust Road, which opens at the Edinburgh International Festival and heads to HOME in Manchester before touring throughout autumn in 2019.
The Drift, Hannah Lavery's exploration of Scottishness, belonging, grief and what it means to be 'mixed' in Scotland is directed by Eve Nicol. It runs between 2 and 12 October.
In November, The Panopticon is adapted for the stage by Janni Fagan from her novel of the same name. The coming-of-age tale is directed by Debbie Hannan.
Touring productions include The Cheviot, The Stag and the Black, Black Oil, Adam, Première neige/First Snow and Anything That Gives Off Light.
Jackie Wylie, artistic director and chief executive of National Theatre of Scotland said: "In 2019 the National Theatre of Scotland is focussing on major Scottish artists, creating major new works that explore the vital questions facing all of us both as Scots and as global citizens."
"What Scottish theatre can do like no other national culture is tackle the big questions of our times, with a unique sense of joy and a love of communal celebration. "