Review: Hamlet (Glyndebourne)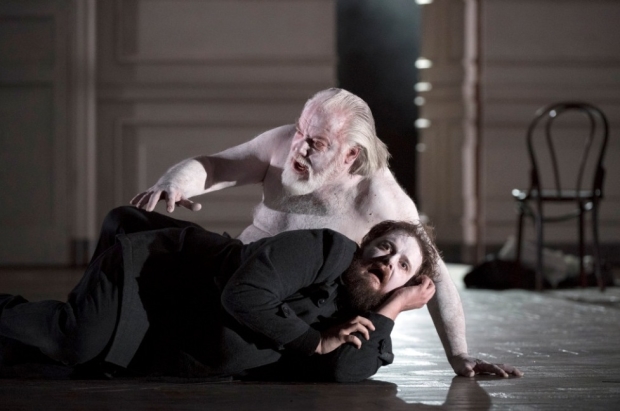 Hamlet the opera? It's as improbable as Parsifal the play. Granted, a minor French composer – Ambroise Thomas – did the deed 150 years ago, but his version was based on Alexandre Dumas' palimpsest complete with happy ending. By contrast, the Australian composer Brett Dean has provided Glyndebourne with a hefty dose of proper Shakespeare.
The Bard's longest play was already his most operatic, a fiesta of jeopardy on every front, be it emotional or intellectual. As Dean himself has said, "the themes of life and death, love and betrayal have opera written all over them". But Hamlet already stands as a supreme work of art so music can only gild the lily, can't it?
What we have is a new opera of dizzying colours but two distinct halves. In the long first section Matthew Jocelyn's choppy libretto grabs extracts from all over the source text and glues them together into a fragmentary whole that just about tracks the plot of the play. Dean's music, a sensory banquet of old and new instruments with a generous overspill into the auditorium, revels in texture at the expense of dramatic momentum. Ambient noise dominates the soundscape; there is little repose for the London Philharmonic Orchestra.
Hamlet begins by repeating "…or not to be…" with an introspection that echoes Aschenbach's "My mind beats on" in Britten's Death in Venice. Thus Dean and Jocelyn immediately place Hamlet's psychological restlessness, which the tremendous tenor Allan Clayton incarnates magnificently throughout his performance as the Dane, to the fore. But the music's wayward pulse pulls against the story right through to the interval.
'A distinguished roster of star singers'
Then, in the second half, something extraordinary happens. A trio of Ophelia scenes (mad; dead; buried) is everything an opera ought to be: theatrically coherent, searing and gripping. And at last the singers get a place in the sun that was denied them in part one. The opera's new dynamic allows Barbara Hannigan's courageous charting of Ophelia's decline to shake the soul, while in Gertrude's "There is a willow grows aslant a brook" Sarah Connolly is gifted a gratefully crafted vocal aria. The gravedigger scene allows Jacques Imbrailo to stamp his mark as Horatio while John Tomlinson (who also sings the Ghost and the Player King) digs up skulls, and the swordfight is properly climactic with the requisite trail of deaths.
A distinguished roster of star singers gives Dean's opera the best possible launchpad, but it still needs more work. Aside from the aforementioned issues, his decision to have Rosencrantz and Guildenstern (Rupert Enticknap and Christopher Lowrey) deliver fey doses of 'suit-you-sir' innuendo sets the countertenor cause back decades. A rather better musical joke accompanies tiresome old Polonius (Kim Begley) at "I will be brief".
Director Neil Armfield should have sharpened the definition of Rod Gilfry's finely sung but theatrically effaced Claudius, but in other respects he has staged the opera with great intelligence, abetted by imaginatively flexible indoor designs by Ralph Myers and Jon Clark's evocative lighting. And it was all was driven by the stunningly assured conducting of Vladimir Jurowski. To hear him at work you'd think it was a repertoire piece.
It's always a good sign when you can't wait to re-hear a new opera, and that's very much the case here. How exciting, then, that Glyndebourne is including Hamlet on its tour this autumn, when the title role will be sung by this incarnation's fine Laertes, the tenor David Butt Philip. Book early. It's worth it for the second act.
Hamlet continues in repertory at Glyndebourne until 6 July. The final performance will be shown live in cinemas.