Cinderella (Lyric Theatre, Hammersmith)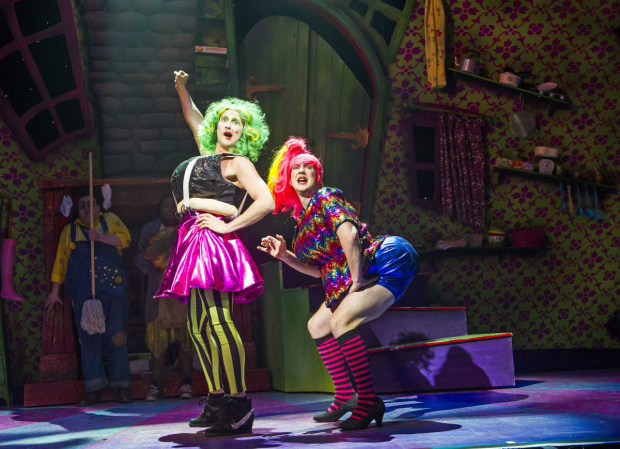 Ding ding! With the opening of Hackney Empire and Lyric Hammersmith's festive offerings, the battle for best London pantomime 2015 has officially begun. And though it may not take the panto crown this year, Cinderella easily manages to hold onto its place among the best in the big smoke.
Over the last few years the Lyric's Christmas show has been written by snappy young playwright Tom Wells – who had a well-deserved hit at the Bush theatre with his sweet play Jumpers For Goalposts. He's a safe pair of hands with panto, too. His Cinderella is paced to perfection: though it covers vast ground, nothing feels squeezed, rushed or underdone. You come away from this show with an immense feeling of panto satisfaction.
One thing this year's show doesn't do is stray far from the traditional plot. Where Theatre Royal Stratford East (another of London's best) often transforms the original stories (one year they went into space), Wells' Cinderella features everything you'd expect and not much more. It's sensible, if a little too safe: the best pantos are always those that surprise you.
But that's a very minor quibble. Mainly, Cinderella is an absolute riot of a night out. Kids will love the stock panto features: handfuls of sweets flung into the stalls, the shouting, the gloriously sparkly costumes and the several raucous 'She's behind you!' moments. Adults should enjoy all those things too (unless you're a Scrooge) as well as the slightly shocking dirty moments – all of which are guaranteed to soar over the heads of the kids – a joke about Prince Charming giving Cinderella crabs (they are fishing) is a classic example of that.
The slightly squeaky Krystal Dockery plays it straight as Cinderella and struggles with the songs, but she makes a delightful double act with Karl Queensborough's Prince Charming. Queensborough is an endearing star here, pitching his Charming somewhere between absolute dude and sweet boy-next-door. Ugly sisters Booty (Matt Sutton) and Licious (Peter Caulfield) are wonderfully grotesque, butch northern naughties in drag. Sara Crowe is a great, twitchy, creaky step-mother. The star singing moment comes when Samuel Buttery's Buttons 'finds his voice' towards the end of the show and releases a spine tingling showdown. It's a pity that this comes so late, because other than here, the songs are a little weak.
Ellen McDougal's production keeps its tongue in its cheek and plays to the audience, while not lingering too much on the participation moments. It works well – the panto is the thing and she lets her strong cast run with it. There's a very game ensemble too who help with a hilarious chase sequence, featuring a standout Lionel Richie/Adele joke. Expect slightly altered versions of current pop favourites – everything from Sia's "Chandelier" to Ella Henderson's "Ghost". The best moment of the night by far is an underwater scene, where Katie Lias' costumes come into their own: the ensemble are dressed as everything from sparkly crabs to general river trash. This is the perfect kick-off to a joyous Noel, oh yes it is.
Cinderella runs at the Lyric Hammersmith until 3 January
For all our pantomime coverage, click here.