Treason the Musical releases photos of first fully staged production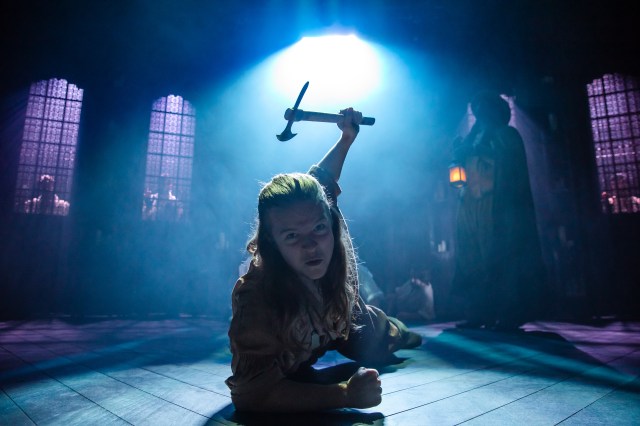 First look images have been released for the first fully staged production of hit musical Treason.
The piece, which tells the historic tale of division, religious persecution, and brutality, is currently at the Festival Theatre in Edinburgh (until 28 October) and will then tour to Sheffield's Lyceum Theatre (31 October to 4 November), Alexandra Palace Theatre (8 to 18 November) and The London Palladium (21 to 22 November).
Since the release of the original EP in 2020, Ricky Allan's Treason's songs have gained substantial popularity, amassing over one million streams across 96 countries. The production had a streamed concert in 2021 and a live concert at the Theatre Royal Drury Lane last year, which was nominated in the 23rd Annual WhatsOnStage Awards and achieved two sold-out performances.
Notably, the writing team of Treason now includes Charli Eglinton for the book and Debris Stevenson for additional lyrics and material.
The cast for the 2023 tour includes Nicole Raquel Dennis, Joe McFadden, Gabriel Akamo, Oscar Conlon-Morrey, Kyle Cox, Lewis Edgar, Sam Ferriday, Emilie Louise Israel, Connor Jones, and Alfie Richards.
An ensemble known as "The Eyes" includes Femi Akinfolarin, Filippo Coffano, Megan Curley, Elèna Gyasi, Naomi Katiyo, Louis Makrodt, and Dan Gill, making his professional stage debut.
The creative team includes Hannah Chissick as the director, Taylor Walker as the choreographer, and Nick Pinchbeck, who takes on the dual responsibilities of musical supervisor and musical director, Philip Witcomb as the designer, Jason Taylor as the lighting designer, and Tom Marshall as the sound designer. Casting is by Harry Blumenau CDA, and Matthew Malone serves as the orchestrator. John Rowland takes on the role of production manager, while Luciano Macis is the company stage manager. Claire Llewelyn is responsible for fight direction, and Jordan Murphy serves as the associate director.
The team also includes associate orchestrator and copyist (Fran Warren), associate orchestrator (James Otto), associate musical director (Mike Steel), and musicians fixer (Oli Briant). Costume supervision is handled by Jemima Penny, while Diana Estrada Hudson takes on the roles of hair and makeup designer and supervisor. Amy Boulton serves as the deputy costume supervisor, with Lucy Rees as the deputy stage manager.
Additionally, there are assistant stage managers (Evie Graham-Brown and Thomas Bray) and an assistant musical director (Siân Campbell). The technical team comprises Toby Darvill as LX 1, Adam Fenton as Sound 1, and Sophie Wilson and Olivia Kellett as Wardrobe 1 and Wardrobe 2, respectively.
The band includes instrumentalists Nick Pinchbeck (Keyboard 1), Siân Campbell (Keyboard 2), Matt Whittington (Drums/Percussion), Ayse Osman (Acoustic/Electric Bass), Lewis Dunsmore (Acoustic/Electric Guitar), Dave Ruff (Reed 1 – Recorders/Flute/Piccolo/Clarinet), Jess Holder (Reed 2 – Clarinet/Bass Clarinet/Flute), Glesni Roberts (Violin), and Richard Phillips (Cello).