The Velveteen Rabbit (Unicorn Theatre)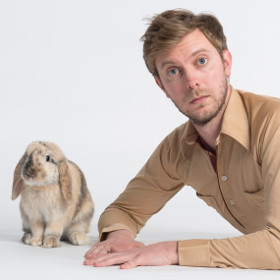 Who'd have thought two real, fluffy rabbits would have starring roles in London shows at the same time?
But while one bunny is being vengefully boiled in a pot in Fatal Attraction, the other is bringing a very different message about the transformative power of love and friendship in the Unicorn Theatre's adaptation of The Velveteen Rabbit.
Written in 1922 by Margery Williams, this touching story of a toy rabbit who discovers what it means to be 'real' has been animated, filmed and re-illustrated many times, all a testament to its lasting appeal. It also proves to work beautifully on stage.
Director Purni Morell has created a vivid world full of clever devices – including fire, snow and flying – to capture and maintain her audience's attention. There's also evocative music, composed by Jason Carr and performed by pianist Paul Moylan. But the show's real magic is in its invitation to use your own imagination to power the story, just as the Boy at its heart does in his own games.
This begins with the introduction of Christian Roe as a completely adorable, wide-eyed Velveteen Rabbit. Dressed simply in bunny-coloured top and trousers, and a velvety brown jacket (no ears or tail required), he emerges meekly from the Boy's Christmas stocking and after a two-hour reign as favourite, is dumped on the nursery floor.
Sneered at by the fancy mechanical toys and left feeling very insignificant, the Velveteen Rabbit finds a friend in the elderly Skin Horse, sympathetically played by narrator Paul Lloyd, who explains that, "Real isn't how you are made. It's a thing that happens to you."
And the key to this seems to be love.
The Rabbit eventually finds favour again with the Boy, and they enjoy a magical summer. Syrus Lowe captures all the Boy's restless energy and excitement as he rushes from one game to the next, his faithful Rabbit in tow. Their adventures as pirates and undersea explorers are superbly choreographed by Wilkie Branson, as they leap and cavort around James Button's necessarily sturdy set, using the metal bed frame as everything from ship to mountainside.
The story's message appears to be that getting old, bald and faded doesn't matter a jot when somebody loves you. It's a cheering thought – but life isn't that simple, and even love can't save the Rabbit when his Boy forgets him again. The gasp from the audience as his fate is revealed expresses just how brilliantly the cast have engaged our emotions.
Thankfully a fairy steps in to ensure there is a happy ending – complete with a real, live bunny – making this a perfect show for Easter, or indeed any time.