The Time Traveller's Wife in the West End review – dazzling staging of an unresolved narrative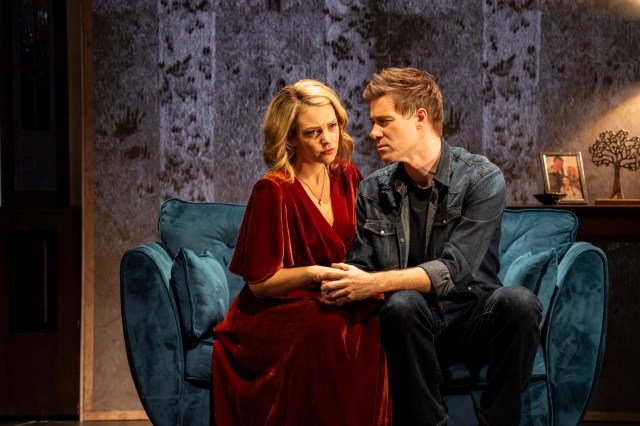 There's no arguing with the popularity of The Time Traveller's Wife. Audrey Niffenegger's debut novel about a man who travels through time and his ever-affectionate spouse has already been adapted into a film and a short-lived television series. Now it's a musical, with music and lyrics by singer-songwriter Joss Stone and Dave Stewart (of Eurythmics fame).
It's perfectly amiable and enjoyable. But in each incarnation, Niffenegger's original questions about the nature of love and the difficulties of sustained relationships get stripped back and what's left is a saccharine story of enduring love. Without the philosophical underpinning, the narrative is uplifting but irritating as the essential difficulties of its time-travelling conceit are never resolved.
The star of the new show, which has a book by American playwright Lauren Gunderson, is the staging itself. Anna Fleischle's design is a wonder of flexibility, with panels that turn to reveal swiftly changing locations from meadows to libraries to luxurious New York apartments with the minimum of fuss and the maximum of impact.
With the assistance of Andrzej Goulding's videos and animations and Rory Beaton and Lucy Carter's lighting, the production moves beautifully from the real world to outer space. In "Journeyman", which opens the second act, David Hunter's Henry does indeed seem to race through time itself, as black and white animations, clever choreography (Shelley Maxwell), puppeteers and Chris Fisher's illusions whisk him from one side of the stage to the other.
If only the rest of the show were as satisfyingly imaginative. In fact, it takes a relatively straightforward approach to its complex narrative, opening with a prologue in which Joanna Woodward's Clare announces herself as the title character, and sings about waiting for Henry to come back to her, like a sailor after his voyaging. At this point, the line "The world is wide" is made to rhyme with "side by side" which sums up the subtlety of most of what follows.
Then it's off to the library, where he meets her for the first time and back to her childhood where she encounters him. These chronological manipulations are carefully – and helpfully – signposted throughout, with captions on the scenery. There's never any doubt about what is happening, but the tone of the show veers around unsettlingly. Storylines about children and, unforgivably, sexual assault are either treated lightly or brushed over.
Henry's wild journeyings are regarded as an irritating inconvenience rather than a cause of true distress. The sci-fi logic of the conceit doesn't ever make sense: Henry can win the lottery but can't do anything about his fate.
Crucially, there's never enough time really to feel any true bond between the central couple. Henry is always walking in and out of the door or vanishing into thin air, Clare is always singing defiantly about her resolute refusal to give up on him. But you don't have a moment where the music (oddly flattened by its relentless orchestration) or the dialogue really allow you to care.
What you are left with are two attractive performances from the leading actors, a charming one from Poppy Pawson, one of several youngsters in different casts playing Clare as a child and her own child Alba, and a staging that dazzles. It's not quite enough, but it certainly passes the time.