The Shape of Things at the Park Theatre – review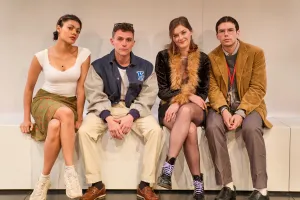 It's hard to believe that Neil LaBute's elegantly nasty piece of human illumination is more than twenty years old. If anything, The Shape Of Things feels even more relevant today than it did when first seen in a 2001 Almeida premiere headed by Rachel Weisz and Paul Rudd. In its coruscating take-down of faux sincerity and the ongoing fascination with the surface beauty of people and objects, it actually feels more relatable in 2023 than it did originally.
Encountering it now, one is struck by the acuity of the observations, the forensically precise insights into the four characters, and the brilliance of the writing, but also how it foreshadows the obsession with image and physical perfection that so many people currently deal with in our so-called civilised world. When Adam first encounters Evelyn (and yes their names deliberately recall those of the humans present at the dawn of creation) in a gallery in a small American University town (she's an art major, he's all about the English Lit), it's less meet-cute and more meet-awkward. She's sardonic, a little wild and possibly about to deface a sculpture, while he's just trying to do the right thing. Peaky Blinders' Amber Anderson and Bridgerton's Luke Newton are thoroughly convincing as, respectively, the aloof but super-smart fledgling artist and the schlubby nice guy working part-time as a security guard.
They embark on a relationship that feels both uncomfortable and sexy, but also entirely real as he undertakes a number of lifestyle changes that will turn him into the boyfriend he thinks will be worthy of her. Part of the collateral damage is the friendship he has with former roommate Phil (Majid Mehdizadeh-Valoujerdy) plus Phil's girlfriend Jenny (Carla Harrison-Hodge) who may just be carrying a torch for pre-transformation Adam. There's a terrific scene where the four meet for the first time and the wheels come off astonishingly fast as it becomes rapidly clear that Evelyn and Phil are unlikely to ever see eye-to-eye on basically anything, and the recriminations and accusations stack up with tantalising intensity. Ultimately the play's impact is predicated largely on a late-revealed central premise of such breathtaking cruelty that it makes you want to rewind the whole thing to watch again and see if you could spot the clues coming.
LaBute's text, talky but dynamic, feels like a modern masterpiece in Nicky Allpress's flawless production, mining the seam of rich humour running concurrently with a satisfying, clear-eyed understanding of what makes these flawed humans tick. Peter Butler's simple, angular set suggests that the whole thing is playing out on a particularly austere art installation, and Anna Reddyhoff's lighting repeatedly transforms the space with ingenuity and intelligence.
LaBute may not necessarily like all of the people he has created here but he sure understands them, and the four actors deliver potent, truthful work. Newton transforms exquisitely from geek to hunk, while never losing sight of how fundamentally decent Adam actually is, and Anderson, in a remarkable stage debut, makes Evelyn a subtle, damaged force of nature. Mehdizadeh-Valoujerdy is hilarious and intense as mouthy Phil, and Harrison-Hodge imbues Jenny with an endearing mix of sensitivity and kookiness. There is a moment where it looks as though Adam and Jenny, easily the most likeable half of this troublesome quartet, might actually have a shot at being together, which is all the more powerful for its raw hopelessness.
Ultimately, The Shape Of Things is a piece that fascinates on several contradictory levels. It's very funny, utterly chilling, compellingly provocative and grimly prescient. It holds up a mirror to humanity that may not be easy to look into but feels unquestionably accurate. It's about co-dependence, vanity, coercion, and the unfathomable gaps between what we say and what we mean. The dialogue leaps off the stage with a rare savagery and vitality, and it's hard to imagine a better production than this one. A real must-see.