The Roaring Girl (Swan Theatre, RSC)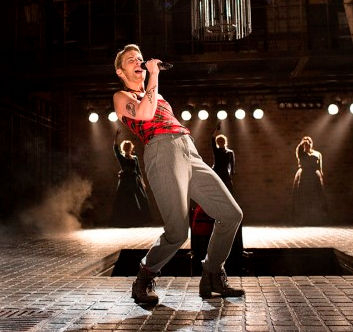 The Royal Shakespeare Company's decision to celebrate strong female characters from the Elizabethan and Jacobean stage is certainly a laudable one. It is therefore a source of much regret that the first piece in the season is such a weak one. Middleton and Dekker's The Roaring Girl is a relatively unknown piece (most famously revived by the RSC in the early 80s starring Helen Mirren), and I can see exactly why it has not been performed more often over the past 400 years.
The language and rhythms of the verse have none of the spring and vitality of Jonson's city comedies from the same period. The characters have very little depth and the plot lines are badly controlled – often leaving things unresolved. Other than a bold central character, I can see very little in the text to justify returning it to the repertoire.
There is no denying that Moll – the eponymous hero(ine) of the piece – is an intriguing character. Based on a real person, Mary Frith, she's an individual who sets herself against the norms of her society, in terms of gender identity, dress, demeanour and behaviour. But through the play, she's not really the driving force that would mark her out as a truly remarkable character. On the basis of Jo Davies' production, Moll (played by Lisa Dillon) emerges as more of a Puck; an agent of mischief but not a real agent of change. Indeed, she seems not to have any narrative or emotional journey of her own.
The positives of this production are very much in the design. Naomi Dawson's set (Victorian cobbles and ironwork) is as good as any I have seen at the Swan and it is beautifully lit by Anna Watson. The costumes are a visual feast.
The cast, led by Dillon, certainly enter in spirit of the play and have clearly formed a strong ensemble. But whilst their enthusiasm is palpable, there is a broad brushstroke approach to much of the characterisation that means we never see them as real people. This isn't helped by some poor voice work; several speeches and some entire sequences are rendered almost incomprehensible by the choice of accent and the weak delivery of the text.
A particularly confusing aspect of the production is the choice of music. The updated Victorian setting works well enough for the piece but the decision to use a far more modern musical vibe (saxophone, bass guitar, trumpet and drums) constantly jars. I was further perplexed by a scene embellished with a section performed in a hip-hop style.
My overriding impression is of a production that lacks confidence in the source material and so decisions have been taken to 'improve' it. On the whole, these decisions only seem to highlight the inherent weaknesses in the script and consequently make for an unsatisfying evening in the theatre.