The Rise and Fall of Little Voice (Union Theatre)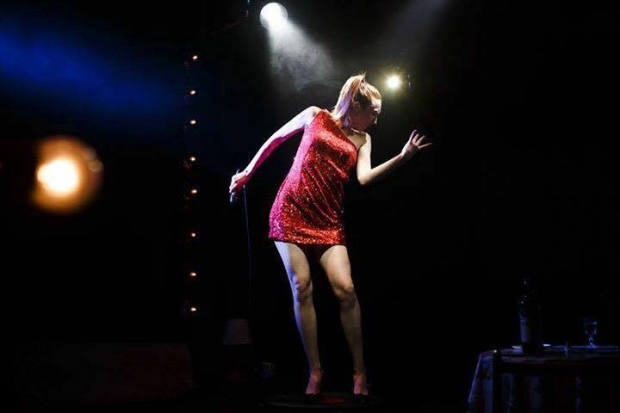 After 18 years, the enterprising Union Theatre is moving to smart new premises just across the road. It is a great pleasure however to declare that they are leaving their original home very much on a high note, both literally and figuratively. The final production in this endearingly ramshackle auditorium is a fizzing revival of Jim Cartwright's 1992 musical drama, and this gritty but fantastical northern fairy tale proves a perfect fit for the seedily atmospheric space.
The story of the lonely, withdrawn girl with an unexpected gift for mimicking musical icons of yore (Garland, Monroe, Piaf, Holiday, Bassey) bullied into the spotlight by her loudmouth mother and her on-the-make manager boyfriend is probably best known for the lukewarm film version with Brenda Blethyn, Jane Horrocks (who created LV onstage) and Michael Caine; but it is in the theatre that this sassy, messy, riotously entertaining piece belongs. At times it is like watching a stage version of Shameless but with musical interludes.
On Libby Todd's gloriously grubby set – all filthy carpets, dirty dishes and hidden liquor bottles – Alastair Knights directs a pitch-perfect, in-the-round (well, in-the-square actually) production that captures all the loquacious, foul-mouthed wit and unexpected pathos of Cartwright's heightened, almost poetic text. Far more than in the all-out grotesquerie of the original National Theatre production and the slightly sanitised 2009 West End revival with Lesley Sharp and Diana Vickers, Knights has encouraged his terrific cast to go for broke in presenting these over-the-top characters, but crucially with one foot firmly rooted in reality so that we the audience can connect with them even while recoiling from some of the excesses. The colourful and inventive lighting by Jack Weir contributes massively to the entirely appropriate shop-worn glamour of this staging.
Carly Thoms is a real find as LV: watchful, timid, then bursting into magical life as she becomes the divas she has learnt about from the record collection bequeathed by her late dad; the scene at the end where she discovers her own 'real' voice is genuinely moving. All her impersonations are excellent but her Judy Garland is astonishing.
As her brassy but desperate mother Mari, Charlotte Gorton delivers an absolute powerhouse of a performance. Less of a monster than Alison Steadman in the original and far funnier and sexier than Blethyn in the film, Gorton relishes Cartwright's extravagant, salty, sometimes absurd dialogue ("are you one of them agoraphobicals?" she bawls at her appalled daughter at one point, "cos if you are, you can get out now!") and gets to wear an eye-wateringly garish array of costumes. She never loses sight of Mari's humanity though – no mean feat amidst all the bluster and fury of the text: the look of desolation on her face when she is told some unpalatable home truths by her sleazy boyfriend (an impressive but more-sympathetic-than-usual Ken Christiansen) is hauntingly sad, as is her assertion that she was always excluded from LV's special bond with her music-loving dad. She is remarkable. The final showdown between mother and daughter in the charred ruins of Mari's unlovely house is truly electrifying, and features Cartwright's most powerful writing.
Mandy Dassa is very funny but also deeply poignant as Mari's downtrodden, monosyllabic sidekick, and there is lovely work from Glenn Adamson as LV's shy champion-cum-admirer and James Peake as a cheesy northern club promoter.
This is a glorious send-off to the Union's current home, and a superb account of a much-loved play.
The Rise and Fall of Little Voice runs at the Union Theatre until 26 June.