The Gruffalo (Tour – Salford)
When a Mouse took a stroll through the deep dark wood, a nation of young fans accompanied their intrepid hero as he outwitted the hungry woodland creatures he met along the way. Tall Stories returns to The Lowry, to present their brilliantly adapted stage play to celebrate the 15th anniversary of the award-winning picture book.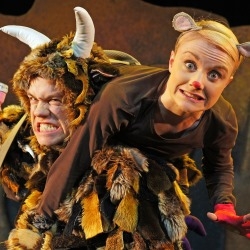 Having toured internationally since The Gruffalo's premiere in 2001, the show has played to 15,000 strong audiences from Camp Bestival to Sydney's Opera House, and during it's run Tall Stories has perfected a master-class in timeless, interactive storytelling that blends adventurous imagination with whimsical original music to capture the hearts and minds of it's young audience.
Under the direction of Olivia Jacobs – one half of the Tall Stories founding partnership – we are introduced to all of our favourite characters; from the wheeler-dealer Fox, to the regimented old Owl and the charming Snake, by a cast of three expressive actors who generate a participatory experience that continues to familiarise the on-stage action with the original story.
There are minimal props but the warmly lit woodland set softens the sharp edges of the Mouse's gallant adventure as he navigates his way through troublesome obstacles using his 'nut map'. Even the Gruffalo who roars onto stage is quickly an equally eccentric predator as he joins in a delightfully choreographed dance routine with his prey.
The play remains true to the original tale but is peppered with song, dance, and pantomime that more than maintains the attention spans of it's intended 2-years target audience during a manageable and magical hour of entertainment.
The Gruffalo is at the Lowry until 20 April.
– Sarah Bloomer