The Famous Victories of Henry V (RSC tour)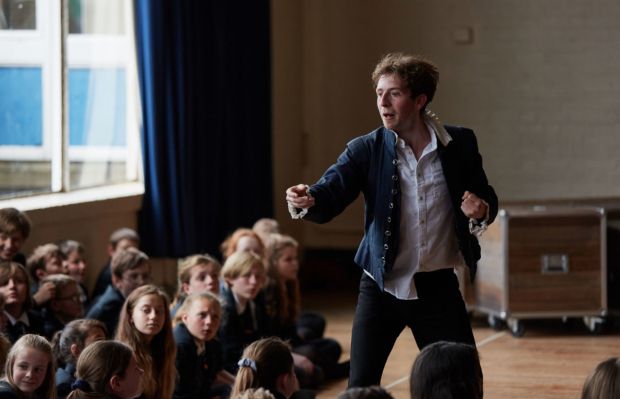 On the morning of the Othello opening in Stratford-upon-Avon, the RSC held a press performance of their latest "First Encounters" educational initiative in Clifton Primary School in Birmingham. This was a nifty, 90-minute conflation of both parts of Henry IV and Henry V.
In sketching this progress of Prince Hal from bad boy with rude friends to national hero with a French queen, the company is engaging with its future audience by involving them: the schoolchildren – not just local, but on tour in Hull, Newcastle (under Lyme and upon Tyne), Leicester and Cornwall – are working with their teachers on the play and making the props.
These include the king's crown, the money chest stolen by Hal and Poins, their vizards, masks and maps. The seven actors (all in the company's full-scale productions of these plays going to the Barbican) involve the schoolchildren with these artefacts and drill them in various chants and actions ("Cry God for Harry…" and bow drill at Agincourt).
It's all tremendous fun, and there's a particularly insinuating tavern song that I've been humming under my breath for 24 hours. The distillation of the plays by director Owen Horsley (Gregory Doran's assistant on the plays proper) is similar, with the Henrys, to Phyllida Lloyd's all-female version at the Donmar Warehouse last year: a concentration on Part One – the Gadshill escapade, the mock trial, the battle at Shrewsbury – and, from Part Two, just the death of the king and the rejection of Falstaff scene (no recruitment).
From Henry V, we have the Chorus, the king among his troops (where the hilarious ostlers from Part One, "Dericke and John," are under canvas with a little touch of Harry in the night), Agincourt and marriage to Katherine.
There's a delightful, imposing double from Simon Yadoo as Falstaff and Henry IV. Martin Bassindale is a boyish, febrile Prince Hal (more interesting than Alex Hassell's in the main company version), Evelyn Miller striking as both Hotspur and the Dauphin, Daniel Abbott downright hilarious as a bosom-heaving, Caribbean-sounding Mistress Quickly.
The whole experience is a joy and the kids only started to fidget during one or two of the longer speeches, but we all do that. This work is as good as any of its kind that I've seen and makes a complete nonsense of Dame Helen Mirren's latest dropped clanger that Shakespeare should be locked away from children until they are sixteen.
The Famous Victories of Henry V is visiting schools around the country – click here for dates and venues