The Curious Incident of the Dog in the Night-Time (Tour)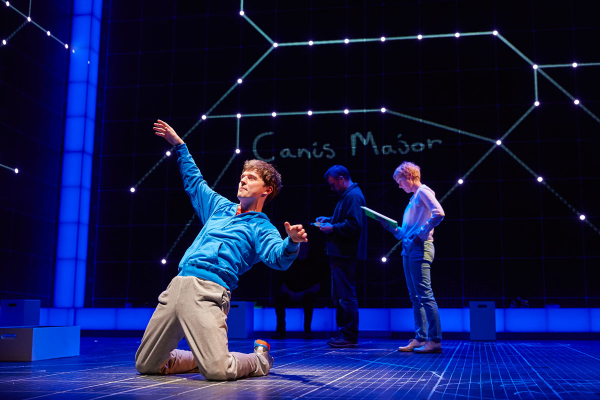 For the first time in almost a decade, the National Theatre returns to Wolverhampton Grand with their stellar West End and Broadway hit, The Curious Incident of the Dog in the Night-Time, and the lengthy UK tour seems set to shine as bright as its London cousin.
We meet Christopher Boone as he embarks on his Sherlock Holmes-inspired journey to find the culprit of his neighbour's dog's death. He plucks up the courage to start 'making chat' with people in his street to complete his detective work but along the way uncovers family secrets and begins his own unexpected quest in his academic, personal and family life.
Joshua Jenkins's Christopher is convincing and authentic; from the moment he enters, the connection he creates with the audience and his fellow cast is a winner. Geraldine Alexander as Christopher's teacher Siobhan has a charming warmness which fits the character perfectly.
Mark Haddon's story is completely gripping and full of imagination. It's quite clear to see why this tale has become a set text for so many young children; it teaches honesty, loyalty, bravery whilst dealing with maths and space and Christopher's behavioural problems in a direct, yet truthful and heartwarming way.
Marianne Elliott's direction takes Simon Stephens's stage adaptation and presents Christopher's imagination and understanding of life in a logical and sublime fashion; dealing with some of the more sensitive issues with a great deal of emotion.
Bunny Christie's simplistic set design reflects the often simplistic life Christopher has but also demonstrates how complex and thoughtful it can also be. And it would be hard to imagine the show without movement direction from Frantic Assembly; I couldn't think of a better combination to convey Christopher's inner thoughts as beautifully as this.
Seemingly unchanged whatsoever from the London production, this is one tour that doesn't constitute a low budget version of its predecessor.
The Curious Incident of the Dog in the Night-Time runs at the Grand, Wolverhampton, until 21 February, before continuing on its UK tour until November