The Cunning Little Vixen (Glyndebourne)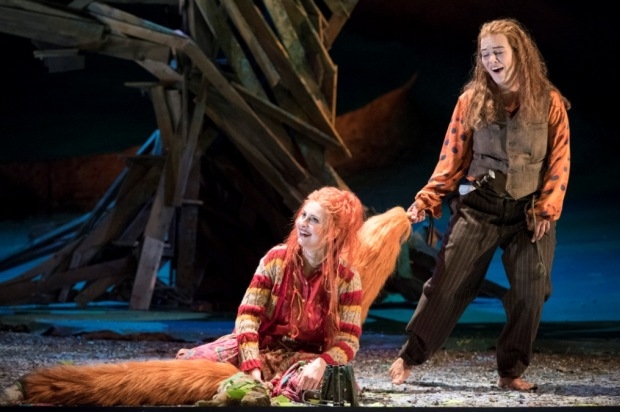 Second time around, Melly Still's bucolic carnival staging of Janáček's animal opera still boasts the clean, colourful and inventive set designs by Tom Pye in which a forest landscape recedes upstage and uphill (then, presumably, down dale) in a trompe-l'oeil effect whose distant peaks require the use of flying harnesses.
Less happily, it also retains the visual character chaos that mitigated enjoyment of The Cunning Little Vixen back in 2012. Dinah Collin's costumes humanise the animals and blur their distinction from the opera's men and women. They also mean that for much of the time it's anybody's guess whether we're watching an owl or a hen or a cock or a dog. More than once, in an opera I know well, I found myself scouring the surtitles for clues.
It doesn't help that in ensemble scenes the stage becomes congested and confusing, with a Cirque du Soleil of acrobatic creature-people. Beautiful as vistas, certainly, but low on clarity. You can't see the wood for the trees.
Where Still's production scores is in depicting the heartlessness of nature. In keeping with Janáček's self-styled 'merry-go-round of life', the staging is unsentimental and resolutely anti-Disney as it tells the story of Vixen Sharp-Ears (although charismatic Elena Tsallagova's ears are nowhere to be seen in this outfit, sharp or otherwise). This bright young thing charms a kindly forester (Christopher Purves), massacres chickens, falls for a fantastic Mister Fox (Alžbĕta Poláčková), gives birth to a family and is shot dead by a poacher (Alexandre Duhamel, a splendidly dark-toned baritone), whereupon the next generation takes over.
'It is shot through with unforgettable vignettes'
Melly Still permits only the human contingent to tug at the tear ducts, for example in a closing flourish of her own devising. Never the Vixen. She's just a force of nature, red in tooth and paw.
The distinction of this revival is its sublime music-making. The Cunning Little Vixen sometimes stands apart from Janáček's great operas, or seems to, through being superficially artless. But the score has never sounded more Slavic than it does under Jakub Hrůša's dynamic baton, with fabulously variegated playing from the London Philharmonic Orchestra. For once it rubs shoulders with Jenůfa, Katya Kabanová and The Makropulos Case in the composer's canon.
A meticulously prepared cast has the idiom in its bones, with Purves and Tsallagova especially thrilling in their strong, forthright delivery, and Jeremy Bines has drilled the full-throated Glyndebourne Chorus so impeccably in the Czech style that their climactic moments go Glagolitic.
This Vixen is shot through with unforgettable vignettes, from Tom Pye's simple spread of winter to Colin Judson's scene-stealing dual roles as the Mosquito and the Schoolmaster, from the ground-burrowing pupae (a great scenic effect) to the spirited family of fox cubs drawn from Trinity Boys Choir and Glyndebourne Youth Opera.
With Jenůfa soon to open at ENO, there's a lot of misinformation to be heard about Janáček's vibrant music and the accessibility or otherwise of his grippingly theatrical dramas. It's all rot. If anyone claims he's beyond the average operagoer, syringe their ears and send them to Glyndebourne.
The Cunning Little Vixen runs in repertory at Glyndebourne until 31 July.