The Chair (Unicorn Theatre)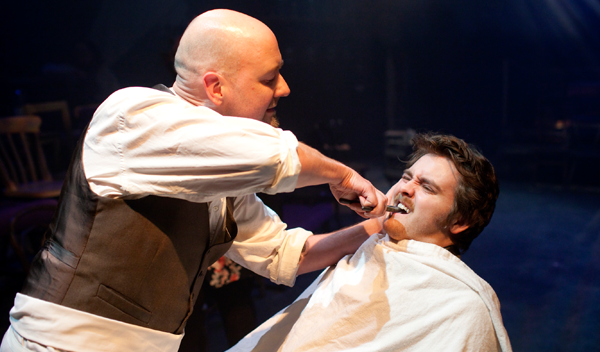 When did you last take a long hard look at yourself in the mirror? Welsh barber Owain Sawyers did just this, one lonely night at sea, and things started to go terribly, terribly wrong. In fact, he's only just survived to tell the tale. Welcome to The Chair, a stormy and spooky show that'll send shivers down the little 'uns spines.
Shelves are packed with gleaming potions, framed insects are dotted around the walls and a misty wind blows through Louie Whitemore's gloomily atmospheric set. The scene is Tiger Bay, an eerie Cardiff port that is packed with ghosts, skeletons and regret. Gary Lagden plays our host for the night, mysterious barber Owain Sawyers. He is a hulking and imposing presence and every phrase ("The wind is like a cry for help!") is loaded with threat.
Lewis Gibson wrote, directed and composed the sound for The Chair and they tie together well, to create a thickly textured and involving show. Christopher Preece plays the barber's assistant but he's also a handy musician and his harmonica tunes (composed by Lewis Gibson) sound like a painful moan. Director Gibson is careful to fold the children into the action and, much to their glee, they are asked to line up for haircuts, help create the set and swig drinks (water, mind) from the bar.
A few stand-out moments – such as when the barber's mirror explodes into a ghostly vision – get the audience gasping as one. But for all the clever effects and finely poised performances, the show begins to lose its dark hold over the young audience. The script is quite fractured and the language a little laboured and the 7+ crowd grow restless.
The main story is strong and provocative one that, if teased out, could've chilled the children but also got them thinking. The key metaphor of the mirror, and the dark temptation we all have to hide from our true image, is a bold and useful one. But Gibson slightly over-burdens The Chair and the central story is swamped by a wave of extra and less effective tales.
In between the main story we also hear about 3,000 year old ghosts, flooded bars and haunted baths. We even get a very odd anatomical lesson, with music. Lagden inhabits a flurry of roles with great skill and convinces as a moody barber, creaky old lady, pompous Brit and seductive spectre. But it's all a little too much to take in and the kids begin to dance and jig and create their own entertainment. They're clearly having a jolly good time but, if the show had been shaved down a little, it might've had them glued to their seat in fear.
The Chair continues at the Unicorn until 12 April 2015