The Box of Delights at the Royal Shakespeare Theatre – review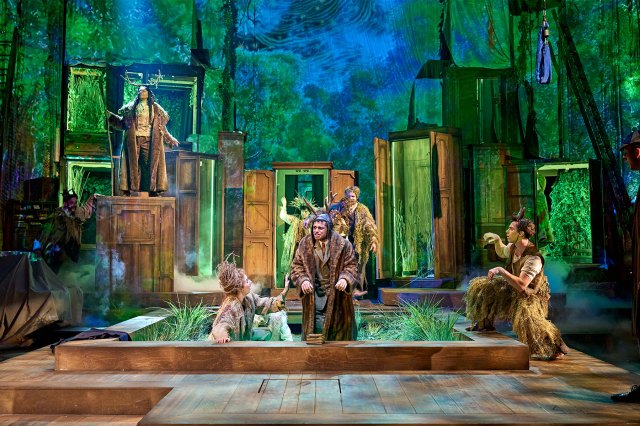 Long before Hogwarts wizards became the stars du jour, prior to Peter, Susan and the others venturing through the wardrobe, ahead even of hobbiting heroics and Gandalf gallivanting around The Shire, there was magic in children's literature. John Masefield's 1935 tale The Box of Delights set a template for all the rest to follow, and there are clear traces of everyone from Harry Potter to Cruella de Vil in his heroes and villains.
He may have been a long-serving poet laureate – second only in tenure to Tennyson – but he could also spin a cracking yarn, and generations of children have been brought up on his classic Christmas tale. I'm somewhat ashamed to say I was not one of them, so came to this narrative fresh and unhindered by any previous baggage, such as the 2017 incarnation of Piers Torday's stage adaptation at Wilton Music Hall.
The RSC has revived this version and expanded it substantially in terms of cast and musicians, retaining the same creative team of director Justin Audibert, designer Tom Piper, composer Ed Lewis, video designer Nina Dunn (here working with Matthew Brown) and puppetry director Samuel Wyer. It's only fitting to record all their credits as this feels very much a team effort, both on-stage and off.
In Torday's pacy script, the basic story – of the clash between good and evil as three children battle to save Christmas – is easy to follow and dynamic enough to captivate even the most restless of young audience members. Throw in a decent dose of magic and some wonderfully entertaining performances, and the RSC has the makings of an enchanting Christmas winner.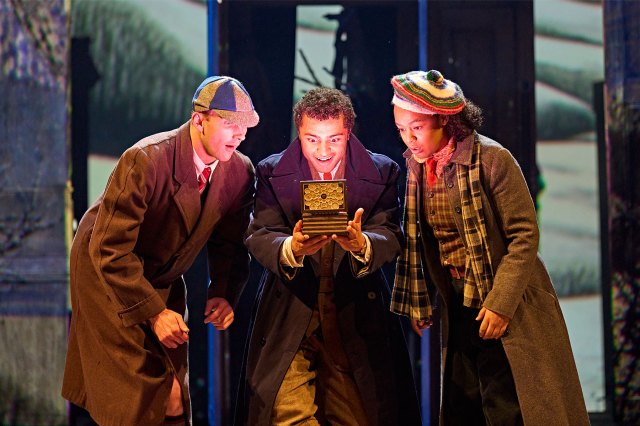 Callum Balmforth, Mae Munuo and Jack Humphrey are spot-on as the children, capturing mannerisms and a slightly stilted 1930s vocalisation with charm and great wit, while Stephen Boxer rolls his chops delightedly around every syllable as the mysterious magician Cole Hawlings, whose eponymous box lies at the heart of the engaging narrative.
But it's the baddies who get the best of things, from Richard Lynch's commanding nemesis Abner to a wickedly wonderful Claire Price (job-sharing with Nia Gwynne) as The Witch, relishing every opportunity to twinkle an evil eye or waft a dismissive hand. There are some lovely comic touches among the ensemble, too, with Molly Roberts a deliciously ditzy maid and Melody Brown hilariously hysterical as the panicky Mayor.
Audibert rallies his considerable forces to create a spectacle. The theatrics are genuinely impressive, and making many of the mechanics – from flying counterweights to an underwater rescue – deliberately visible is a masterstroke. Somehow, seeing how it's done only adds to the wonder of the performance.
A few of the tricks need a little more time to bed seamlessly in, and the story may get a little stodgy in the telling through the second half, but as a curtain-raiser to the Christmas season – and yes, I know we're not even halfway through November – this is a charming festive treat with plenty of that all-important magic.