The Book of Mormon tour casting announced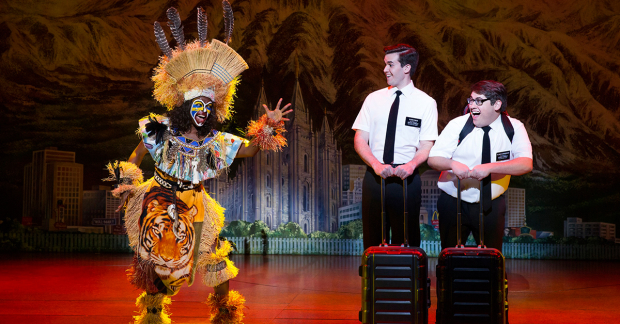 The cast has been announced for the first UK and international tour of The Book of Mormon as the show extends its run at Manchester Palace Theatre.
The musical, which will open in Manchester in June, will be led by Kevin Clay as Elder Price and Conner Peirson as Elder Cunningham, who both played their respective roles in the Broadway and US touring productions of the musical.
Joining them will be Nicole-Lily Baisden as Nabulungi, William Hawksworth as Elder McKinley, Ewen Cummins as Mafala Hatimbi, Johnathan Tweedie as Joseph Smith and Thomas Vernal as the General.
The company will include Sanchia Amber Clarke, Jed Berry, David Brewis, Melissa Brown-Taylor, Chinasa, Tre Copeland-Williams, George Crawford, Jordan Lee Davies, Jemal Felix, Patrick George, Isaac Hesketh, M-Jae Cleopatra Isaac, Evan James, Alex James-Hatton, Nicole Louise, Fergal McGoff, Jesus Reyes Ortiz, Lawrence Rowe, Lukin Simmonds, Chomba S Taulo, Brad Veitch, Tommy Wade-Smith, Sharon Wattis and Jacob Yarlett.
First staged in 2011, Parker, Lopez and Stone's piece follows two Mormon missionaries as they try to convert the citizens of a remote Ugandan village to Mormonism. The show had its West End premiere in 2013, going on to win four Olivier Awards including Best New Musical and Best Actor in a Musical. It is co-directed by Parker and Casey Nicholaw with design by Scott Pask, costume design by Ann Roth, lighting by Brian Macdevitt and sound by Brian Ronan.
The show bagged a four-star review from WhatsOnStage when it first opened in the West End and continues to run at the Prince of Wales Theatre.
The production will continue to Sunderland following its run in Manchester, with the show now booking until Saturday 10 August at the Palace Theatre.