Stephen Fry's Mythos one-man show to tour and run at The London Palladium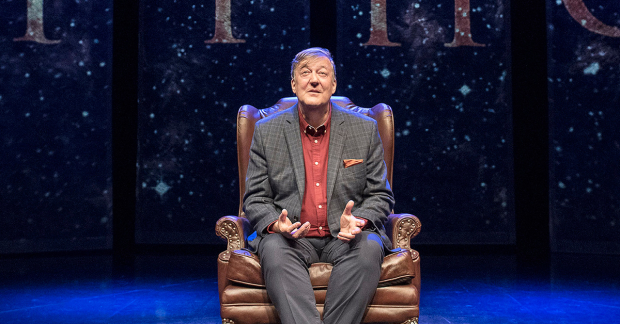 Stephen Fry's trilogy of plays based on his novel Mythos will embark on a UK tour following an initial run at Edinburgh International Festival.
The trilogy, composed of Gods Heroes and Men will be performed by Fry and delves into the backstories of some of the most famous Greek deities and figures. The three shows were originally performed at the Shaw Festival in Ontario in 2018, and will come to Edinburgh in August 2018.
After running in Edinburgh, Fry will perform at The Lowry in Salford (27 to 31 August), Liverpool's Philharmonic Hall (4 to 6 September), Birmingham Symphony Hall (9 to 12 September), The London Palladium (13 to 14 September), Oxford New Theatre (19 to 21 September) and The Sage Gateshead (22 to 23 September).
Fry said: "I am shivering and quivering with excitement at the thought of a UK tour, taking the astounding stories and characters from Greek myth around the UK. Three different shows over three different nights: people can come to one, two or three evenings, but whichever they choose I hope will be as exciting for the them as I know it will be for me."
This will be the first time Fry has toured with a show in over 40 years, with recent stage appearances including Twelfth Night at Shakespeare's Globe and on Broadway.
Directed by Tim Carroll, the one-man show has set design by Douglas Paraschuk, lighting by Kevin Lamotte, projections designed by Nick Bottomley and original music by Paul Sportelli.
Tickets for Mythos at The London Palladium are on sale now.