Edinburgh Fringe 2019 Pleasance line-up to include Bryony Kimmings, The War of the Worlds and new eco-venue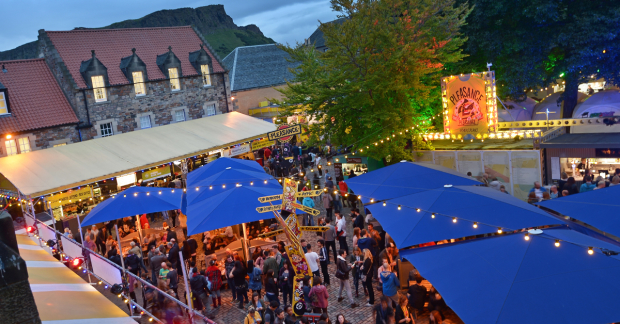 Edinburgh Festival Fringe company Pleasance has announced a raft of shows for its 2019 programme.
Bryony Kimming's critical smash hit I'm A Phoenix, Bitch will run as part of the British Council Edinburgh Showcase. Theatre Re will explore generations of women in Birth while Dutch company ISH will explore the thrill of breakdance, skateboarding, basketball, BMX and inline skating in Elements of Freestyle. 2017 Molière Award winner and pandemonium-filled Fishbowl will have its UK premiere.
Marcus Brigstocke will write and direct a new drama entitled The Red, which is about his own experiences with addiction. The Pleasance will oversee the creation of a new eco venue called The Greenhouse. Built out of recycled materials, the venue is zero waste and won't run on mains electricity. Eight shows will run in venue across the month. Incognito Theatre and Spies Like Us will return to the festival supported by Pleasance Futures, with their respective shows The Burning and Murder on the Dancefloor.
Returning Fringe shows include ThisEgg's award-winning dressed. and Wildcard's gig-theatre Electrolyte, while Medea Electronica will fuse gig and classics to tell a reimagined Greek Tragedy. Trump Lear returns, as does 2010's Heroin(e) for Breakfast. Following a run at the Dublin Fringe, a musical about the Irish Marriage Equality Referendum Confirmation will run, as well as MARA which celebrates women through time with a multi-layered audio soundscape.
Following a run at the New Diorama Theatre earlier this year, Rhum and Clay's The War of the Worlds will run at the Pleasance. The New Diorama's production of The Incident Room, directed by the venue's artistic director David Byrne and co-authored with Olivia Hirst, will investigate the investigation into the Yorkshire Ripper.
Fringe First award-winners Jordan and Skinner (Sanitise) present A Brief History of the Fragile Male Ego, while Charlie Hartill Award-winners Poor Michelle will mount Glaswegian murder mystery Bible John. Total Theatre Award winning company YESYESNONO will return with The Accident Did Not Take Place, featuring a new guest performer every night.
HOME Manchester will collaborate with the Pleasance to present Liz Richardson, Josie Dale-Jones and Sam Ward's Swim, while The Roaring Girls, supported by York Theatre Royal and Absolutely Cultured, will explore beauty standards in Beach Body Ready. Dorset beach-set Wild Swimming from Full Rogue is supported by Bristol Old Vic Ferment, while Royal and Derngate Northampton will help produce Jo Blake's Blodeuwedd Untold which combines movement and ritual to re-examine the Welsh myth of Blodeuwedd.
Oxford Playhouse presents Give Me One Moment in Time, Doug Crossley's story about grief and loss.
The 2019 LET Award-winners, nine piece progressive brass band Perhaps Contraption will perform Nearly Human, with choral harmonies and dynamic choreography. Three explores will take off to the Arctic in a free-flying balloon in Greenwich Partnership Award-winning My Love Lies Frozen in the Ice.