The Beaux' Stratagem (National Theatre, Olivier)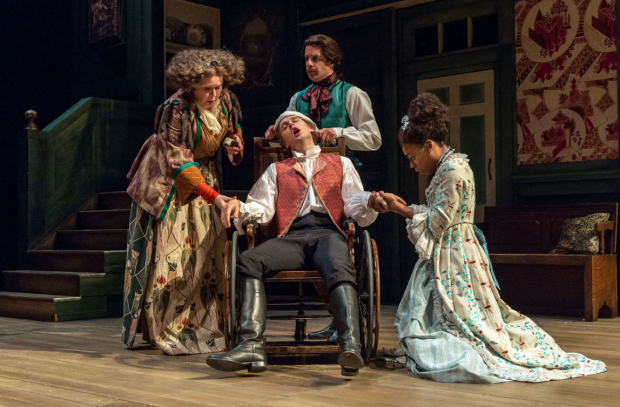 Do we still have the actors, directors or even cultural appetite for the joys and challenges of Restoration comedy? It's heartening, and something of a relief, to see director
Simon Godwin
addressing George Farquhar's peculiar and radical 1707 masterpiece of gold-digging, amorous intrigue, and serious incompatibility in marriage.
The National has done the play twice before, most memorably in the middle of the Olivier years with Maggie Smith playing the fractious, dissatisfied Mrs Sullen and Robert Stephens her subterfuge paramour Archer, who turns up in sleepy Lichfield to thrive, wive and copulate.
The roles are here played by an excellent Susannah Fielding, brittle, scheming and overtly feminist, and Geoffrey Streatfeild as a knight errantly adopting a servile role in tandem with his posh chum Aimwell (Samuel Barnett) – they are both described as "gentlemen of broken fortune" – who are down to their last £200.
Lizzie Clachan's timbered, three-story design favours the inn and the farcical shenanigans of the last two acts, but not always the airiness of the arguments, which are decorated with some modishly pumped up country music by Michael Bruce and a "trifle" song for a reluctant Archer, the basis for a Shakespeare's Globe-style company knees-up at the end.
'There's a healing wisdom and Irish twinkle about this play'
Even this vulgarity can't cloud my approval of Godwin's attention to the text, its lilting prose – "Women may be in chains but I would like to hear them rattle" – and Protestant jokes at the expense of a ludicrous French officer (Timothy Watson) and a phoney Irish chaplain (Jamie Beamish). Nor can I deny his stunning treatment of the divorce by consent dialogue, which Farquhar filched from John Milton's still controversial pamphlets of the mid-17th century.
The inn where Aimwell and Archer con the host Boniface (Lloyd Hutchinson, genially bedevilled by his own unfunny catchphrases) and his buxom daughter Cherry (Amy Morgan, pimped by her father but cleverly rotating the situation she's been dumped in) – who are in league with the highwaymen who inevitably become involved – also harbours the wonderfully deadpan Scrub of Pearce Quigley; he's the wet blanket who airs the bed sheets.
Sex and money, as usual in Restoration comedy, are at the root of all goodness. But there's a healing wisdom, and Irish twinkle about this play, too. Mrs Sullen's difficult "Wedlock we own ordained by Heaven's decree" speech was last heard on this stage at the NT anniversary gala, transformed into gold by Maggie Smith. Fielding renews its dramatic context, at once feisty and lyrical, and a spring to her conspiratorial project to reclaim, or shed, a husband.
Richard Henders is a terrific old Sullen, by turns sottish and brutally sober. Godwin's cast also includes Pippa Bennett-Warner as a deliciously proactive sidekick to her sister-in-law, an eye-rolling Chook Sibtain as Gibbet the highwayman, Jane Booker as an emollient Lady Bountiful in a Theda Bara hair-do and Barbara Kirby as a quietly distraught countrywoman; I love the speech where Mrs Sullen advises this woman to cure her husband's infected leg by cutting it off and roasting it in the oven.
One of the genuine classics of English comedy (written by an Irishman, of course) has been restored. Half the seats for every performance are Travelex £15 tickets (with a live broadcast to over 550 UK cinemas on 3 September), hopefully opening the eyes and ears of a new generation to this wonderful writing and intricate theatricality, just as the long-ago NT productions by William Gaskill of this play and the same author's The Recruiting Officer opened mine.
The Beaux' Stratagem continues in the NT Olivier until 20 September