RSC's Cowbois to transfer to the Royal Court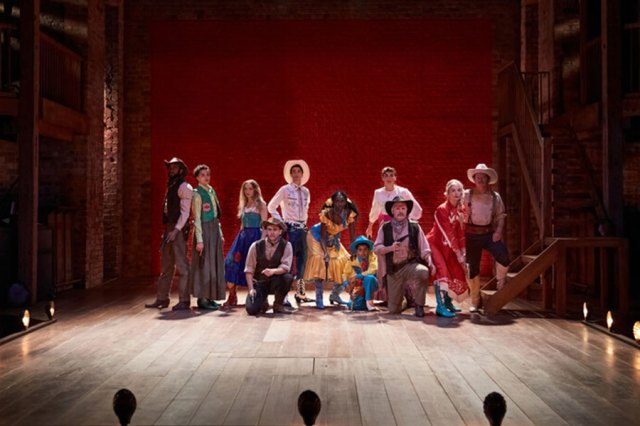 The Royal Shakespeare Company (RSC) and Royal Court Theatre have confirmed the London transfer of Charlie Josephine's play Cowbois.
Co-directed by Josephine (they/he) and Sean Holmes (he/him), the play's plot unfolds in a Wild West town where women navigate their days amidst the absence of husbands, caught up in the gold rush for almost a year. Jack Cannon, a trans masc cowboy, arrives, initiating a gender revolution.
It received a glowing review from WhatsOnStage during its Stratford run earlier this year, with our critic saying: "Not only is it a queer story that's uplifting rather than grim, it's also fun, it's anarchic and it challenges your thinking in the best way that theatre can."
The production will run at the Royal Court's Jerwood Theatre Downstairs from 11 January to 10 February 2024, with the press night scheduled for 17 January.
The transfer will feature the full RSC cast reprising their roles. Tickets are set to go on sale to the general public at 12 noon on Friday, 17 November 2023.
The cast includes Bridgette Amofah (she/her), Lee Braithwaite (they/he), Shaun Dingwall (he/him), Michael Elcock (he/him), Colm Gormley (he/him), Vinnie Heaven (they/them), Paul Hunter (he/him), Lucy McCormick (she/her), Sophie Melville (she/her), Julian Moore-Cook (he/him), Emma Pallant (she/her), and LJ Parkinson (they/them).
The creative team includes Grace Smart (designer), Simeon Miller (lighting), Jim Fortune (music), Mwen (sound and soundscape), Jennifer Jackson (movement), Bethan Clark (fights and intimacy), Rebecca Latham (dramaturg), Martin Poile (casting) and Charlie Metcalf (children's casting).
Josephine and Holmes said today: "We are thrilled to be bringing Cowbois to the Royal Court. We've had the best time making it at the RSC, and are very grateful to the team for the joyful collaboration. Thank you also to the warm audiences in Stratford-upon-Avon, who've received it with open hearts and standing ovations. We're really proud of this beautiful bunch of outlaws and excited to bring them to London."
Priority booking for RSC members, patrons, subscribers, and friends of the Royal Court opens on 16 November 2023, from 12 noon via the Royal Court website.
This transfer marks the first in a series of announcements about the Royal Court's upcoming winter programme, concluding artistic director Vicky Featherstone's decade at the theatre. Cowbois takes the slot previously occupied by the transfer of Broadway hit Dana H., which has been postponed.