Royal Court and Guardian collaborate on online plays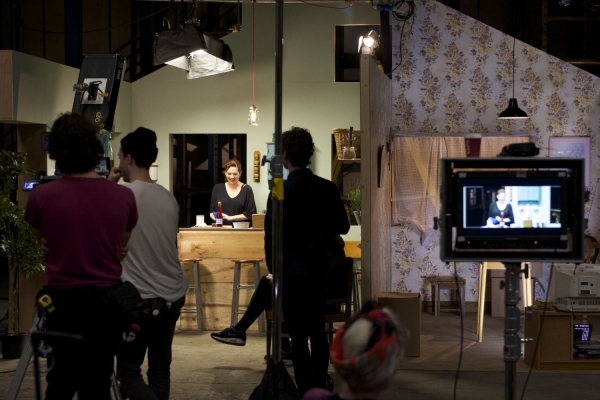 The Royal Court has announced a new project with the Guardian newspaper, which will see playwrights and journalists collaborate to create a series of six online "micro-plays".
Titled Off the Page, the plays will be themed around "key areas of Guardian coverage" – food, music, fashion, politics, sport and education.
The first film, Britain isn't Eating, written by Posh playwright Laura Wade, food blogger Jack Monroe and social affairs correspondent Amelia Gentleman, is released today. Directed by Carrie Cracknell and starring Katherine Parkinson and Kyle Soller, it "explores food banks and our obsession with cookery shows".
Subsequent collaborations cover music, fashion, politics, sport and education. The casts will include Rafe Spall, Tobias Menzies and Ruby Ashbourne Serkis.
The other creatives involved are playwrights Rachel De-lahay, Robin French, Chloe Moss, Tim Price and Roy Williams and directors Clint Dyer, Christopher Haydon, Gbolahan Obisesan, Hamish Pirie and Bijan Sheibani.
Vicky Featherstone, artistic director of the Royal Court, described the partnership as "ground-breaking" adding: "Playwrights and theatre-makers are continuously hungry for inspiration and challenge and that is frequently found in the pages of our great newspapers… The form of our micro-plays, where theatre meets film in an inescapably theatrical setting, feels like a new adventure."
The Guardian journalists taking part include Aditya Chakrabortty, Hadley Freeman, Barney Ronay, Michael Rosen and John Harris, whose article on England's identity crisis was an early inspiration for the project.
Chris Wiegand, stage editor of the paper, said: "The micro-plays are a true extension of our journalism. We've brought together some fantastically talented people and set them quite a challenge – with the names involved, I know these six pieces will be witty, smart and hard-hitting."