Roman Holiday at Theatre Royal Bath – Cole Porter musical review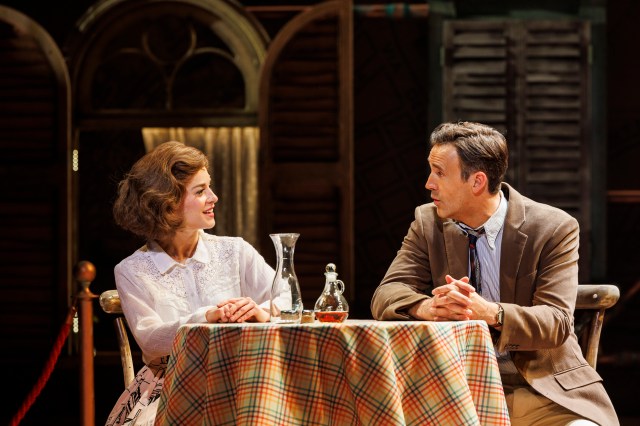 When it comes to creating a musical, you'd expect Roman Holiday to be the perfect source material for something that pops and fizzes. With famous vistas, Italian flair, and two stonking parts for matinee idols, it's a musical that would have been perfect for Cole Porter to bash into shape. So hey, here some seventy years later are a number of Porter's songs, plonked right into the heart of Dalton Trumbo's original film narrative. So Roman Holiday becomes a sort of jukebox musical, one that unfortunately, like so many of its ilk, doesn't seamlessly blend book and score.
It's not that Porter's songs don't hold the stage, there are some proper earworms here including "Experiment" and "In The Still of the Night". But in his best-known work, including Kiss Me, Kate and Anything Goes, music and book go hand in hand, styles and idioms meshing to produce magic. The American songbook plays here, but it's in need of some Mediterranean heat. It's deliberately old-fashioned, kinder judges than me might say charmingly so, but it lacks a purpose as to why now. Some twenty years after a previous production flopped in America, it appears that Kirsten Guenther and Paul Blakes' adaptation won't garner more success this time around.
For those who haven't caught the charms of William Wyler's 1953 film, with Gregory Peck and Audrey Hepburn proving suave star quality, it's the story of a princess who escapes one night while in Rome and finds herself partaking in a city jaunt on the vesper of an American journalist who may have found his big story, literally in his room. It's a romantic tale with little sense of jeopardy which, just like a holiday tour, takes a meandering quality.
Jeremy Sams' production can't sharpen the focus of this, it drifts from one moment to the next without getting out of first gear. The first half offers some energy from a young ensemble in Matt Cole and Jane McMurtrie's choreography but doesn't offer the canvas to bring out the dynamism that won Cole an Olivier for Newsies. It's in the second half when the focus turns to the love story that the piece begins to take some form of a hold on its audience.
The singing is sumptuous, Michael D. Xavier bringing his dashing old-school looks and soaring tenor to some of Porter's tender love songs, though his portrayal of the American journalist Joe feels a little too clean-cut. Would it be that much of a shock to see a princess coupled up with a living Prince Charming? Rebecca Collingwood, in her musical theatre debut, also sings beautifully and makes a convincingly exquisite debutante princess, though the direction that asks her to play her lines out front does her little favour. It's not the performers' fault that they are saddled with slightly dull arcs that require little in the dramatic sense.
Working with slightly more interesting material, Adrian der Gregorian as the photographer friend entrusted to take photos of the travelogue jaunt and Tania Mathurian as the chanteuse singer give each of their scenes a professional sheen. Francis O'Connor's set features the iconic marble Mouth of Truth, which transforms into a shining moon, just as the skirts for Collingwood's Princess become more of a shimmering pink as she falls for her new acquaintance. Touches like this add spark to what is a thoroughly professional but slightly anaemic dud.