Review: Wonderland (Nottingham Playhouse)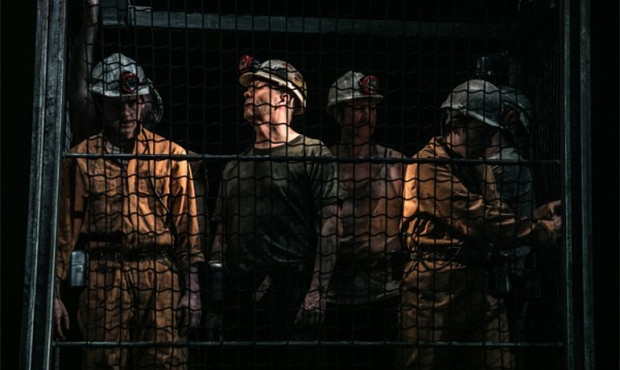 "This is England," screams a striking miner into a policeman's face. "This. Is. England." It doesn't look like it. The coal black cliffs surrounding the stage are the inverse of those chalky white ones at Dover – still a symbol of national unity and soul. But Wonderland shows us another England, one split down the centre by something like civil war. It makes the miners' strike look like a military conflict.
Opening his tenure with Beth Steel's '80s epic, first seen at the Hampstead in 2014, is exceptional programming from Nottingham's new AD Adam Penford. Set at Welbeck Colliery, just 20 miles up the road, the play's on home turf, and the lives of its pitmen – their craft, graft and courage all lovingly detailed – have a direct line to many of those sat in the stalls. There's a round for Deka Walmsley's upstanding old-hand, The Colonel, who demands only work and respect, plus the odd whoop for strikers taking a stand. This is living history, and Steel's play speaks directly to a local lineage. Richly theatrical and peppered with humour, Wonderland's picked up a pressing political charge since its first outing. We are, once again, a nation divided by ideology.
Steel sits the politics alongside the people on (and in) the ground. Neither Margaret Thatcher nor Arthur Scargill feature, but they loom over proceedings like godheads or generals. In Westminster, American-Scottish economist Ian MacGregor (huffish Robin Bowerman), newly appointed to the Coal Board, drives efficiency savings at all costs, while in Welbeck, a group of mining mates are forced out on strike by an autocratic trade union.
As the sides stiffen into opposition, rancour growing by the day, their conflict escalates beyond all common sense – and it's one with harsh, human consequences. What starts as black suits against boilersuits, Westminster v. Welbeck, gradually envelops the country at large: police against miners, mates against mates, husbands against wives. Penford pitches the action from Billy Elliot to Henry VI and Steel shows the state tooling up for war, stockpiling coal and militarising the Met. At the Battle of Orgreave, brought to bloody life by Naomi Said's spare choreography, police chiefs watch through binoculars like tacticians at the Somme. By piercing the plot with real acts of terror, not least the IRA's bombing of a Brighton hotel, Steel suggests a nation distracted by internal divisions.
It's a war to be won whatever the costs, a fight for England's soul, and it's the level-headed moderates that get lost in the melee: Matthew Cottle's old-school One Nation Tory, preaching pragmatism and state responsibility, is forced out by the foppish and fantatical old Etonian David Hart (Jamie Beamish), while Harry Hepple's earnest Spud, who defies his union's undemocratic whip, is outcast from his community and from himself. But Steel's attuned to the ironies of ideology: a government driven by fiscal efficacy spent £6 billion surviving the strike, while the trade union built on solidarity ultimately drives its members to division.
Steel writes with sympathy, but scant sentimentality – her political allegiances split down the centre – but Penford's sometimes guilty of laying it on thick: a band of shambling, underdog strikers against the braying, plum vowels of Thatcher's inner circle. Beautifully lit by Jack Knowles, Morgan Large's vast coal face conjures the awesome scale of the black voids beneath, though the choreographed routines and mining musical numbers tip too far towards camp and I was less convinced by the notion of the mine as a male utopia or a planet of its own. But what it lacks in authenticity, Wonderland makes up for in smarts and in heart. As old ideologies resurface as the nation divides once again, we'd do well to heed its warning. This is England, after all.
Wonderland runs at the Nottingham Playhouse until 24 February.