Review: The Taming of the Shrew (Royal Shakespeare Theatre)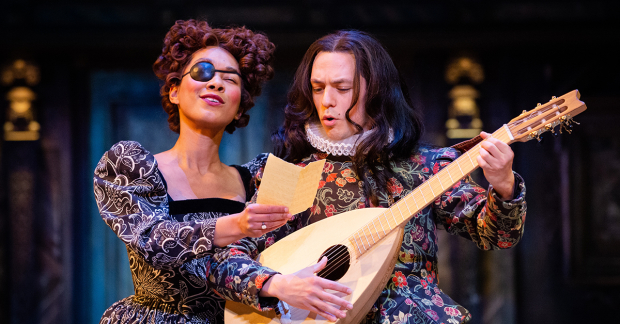 There's been a great deal made already about the gender-swapping in this new Stratford Shrew, playing in repertoire with As You Like It and Measure for Measure before going on a nationwide tour. In fact, the gender-swapping aside, Justin Audibert's main house RSC debut is a pleasingly conventional production of one of Shakespeare's most awkward plays.
Audibert apparently made the decision early on to turn Petruchio into Petruchia and the male-dominated world of Padua into a benevolent matriarchy where women hold all the cards and men are pretty adornments. It might sound controversial but the result is, quite simply, a beautiful rendition of the text – albeit with the pronouns and gender-specific insults adjusted to fit the conceit.
Far from undermining this most notorious of plays, with its original themes of female subjugation and uncomfortable misogyny, what we get instead is a revelatory new perspective in which domestic abuse and the battle of the sexes are revealed for what they are: an iniquitous exploitation of randomly allocated power. The conceit falters only occasionally, like when the words – "Why are our bodies soft and weak and smooth?" – don't quite work, or Petruchia's shrewish husband retains the jarring name of Katherine.
For the most part, however, the production is clear-eyed, straightforwardly told and thrillingly delivered by a wonderful ensemble cast, who mine every last laugh from the surprisingly slapstick script. At the core of the narrative are a brilliantly smart Claire Price as Petruchia and a well-judged, nuanced Joseph Arkley as her Katherine. The pair work superbly together, intelligently portraying Arkley's disintegration from the vituperative shrew of the title into a soberly submissive spouse under Price's delicately graduated bullying.
Director Audibert's subtle handling of the violence – both physical and psychological – neatly sidesteps any claims of reducing things to a lowest common denominator for comic effect. Which is not to say that there aren't plenty of laughs, from a delightfully ingenuous James Cooney as Katherine's younger brother Bianco to the fabulous timing of Sophie Stanton as his older suitor Gremia, whose sublime antics with costume, props and facial expressions deserve a review all to themselves.
The largely female cast is echoed in the creative team, with composer Ruth Chan and costume designer Hannah Clark contributing important threads to the overall fabric, and while it really shouldn't have to be a talking point in 2019, the emphasis on the distaff side of things is both a refreshing take in itself and a vibrant, vital attempt to revisit this thorny text.
It's a tribute to the production and its performers that it does so in a way that not only honours the author's poetry and youthful playfulness but also challenges the anachronistic offensiveness of his message.