Robbie Williams and Guy Chambers to create musical of The Boy in the Dress for the RSC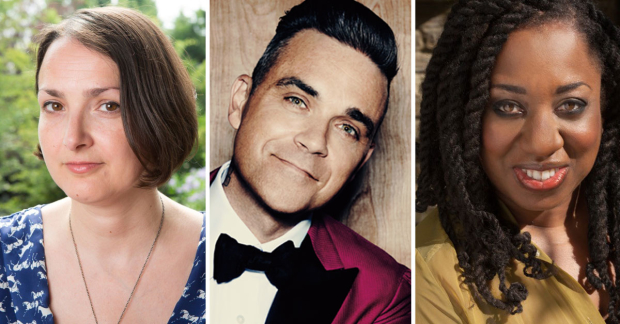 The Royal Shakespeare's new season has been announced, with David Walliams' children's book, The Boy in the Dress to be turned into a musical.
The production will have music and lyrics from Robbie Williams and Guy Chambers and a book by Mark Ravenhill. Greg Doran, artistic director of the company, will direct the piece. The show will open in previews at the Royal Shakespeare Theatre, Stratford-upon-Avon on Friday 8 November before opening on 27 November and running until 8 March 2020.
The Boy in the Dress is Walliams' debut children's book, which follows 12 year-old Dennis, who is his football team's striker and wants to wear a dress to school.
Williams and Chambers said: "We're beyond excited to be working with the RSC on our first musical theatre collaboration. We are both big fans of David's books, so when he approached us about writing the soundtrack to a new musical version of The Boy in the Dress for the RSC, we were genuinely delighted. There's a real freshness, cheekiness and heart to David's writing which we've worked really hard to capture in the music."
Watch our exclusive interview with Walliams on the production.
Elsewhere in the RSC's season there are new plays which sit alongside a production of Shakespeare's King John, which will run at the Swan Theatre between 19 September and 21 March 2020. Eleanor Rhode directs the Bard's play, which is designed by Max Johns and tells of the point in history when Richard the Lionheart's brother ascends to the throne to become King of England.
Hannah Khalil's A Museum in Baghdad will run in the same theatre between 11 October and 25 January 2020. The piece is set in 1926 in Iraq, where British archaeologist Gertrude Bell is founding a museum in Baghdad, and 2006 when Ghalia Hussein is attempting to reopen the museum despite looting during the war. The piece will be directed by Erica Whyman with designs from Tom Piper, lighting from Charles Balfour and music from Oguz Kaplangi.
In February 2020, Juliet Gilkes Romero's play The Whip will also run in the Swan, directed by Kimberley Sykes. It is set in the 19th century in London where politicians come out together to abolish the slave trade.
The company's First Encounters with Shakespeare continues with The Merchant of Venice, which tours to schools, regional theatres and local communities with full details to be announced shortly.