Review: The Rocky Horror Show (New Wimbledon Theatre and tour)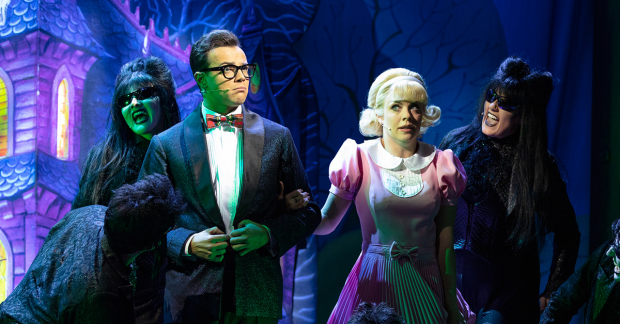 The Rocky Horror Show has been Time Warp-ing its way around the world for many decades now, and with this international tour overseen by creator Richard O'Brien, shows no sign of slowing down.
In fairness, Rocky Horror falls into the same category as panto, or Marmite, or Haggis – one of those unusual British exports that somehow works when, on the face of it, it really shouldn't. Telling the story of a cross-dressing alien from the planet Transsexual in the galaxy of Transylvania and his desperate attempt to make the perfect man for his own nefarious ends, this is really the epitome of quirk.
But endure it does, and with this revival, which opened in Brighton in December, there's definitely a whiff of panto about proceedings, but in the best way. O'Brien acknowledges this in his programme notes, saying "it even has a panto dame figure" in the form of enigmatic doctor Frank-N-Furter. The piece is chock full of audience interaction and actively encourages aisle boogying. Even the satin-suited Narrator Dom Joly cracks a Brexit gag and makes a joke-y aside about illicit activities on Wimbledon Green.
Joly is but one member of the top-notch cast. Ben Adams and Joanne Clifton as the newly engaged naifs Brad and Janet are a solid pairing, making their performances cartoonishly endearing. Clifton even gets to show off her Strictly skills in a wildly energetic rendition of "Touch-a, Touch-a, Touch Me" alongside Callum Evans.
It is certainly no easy feat to follow in the sequined footsteps of Tim Curry, but Stephen Webb creates a brilliant and physically domineering Frank-N-Furter who delivers his eleven o'clock number "I'm Going Home" with all the right heart, lacing the solo with real emotion under all the, well, lace.
This production of Rocky Horror, courtesy of Christopher Luscombe, has been touring for 13 years but doesn't for a second feel all that dated – thanks largely to designer Hugh Darrant, who embraces the musical's debt to vintage B-movies by looping a huge cinema reel across the top of the stage. With sci-fi strobe lighting blending carnival-esque capers with neon greens and pinks, Luscombe manages to make this a fan-friendly encounter while also a big-budget spectacle. The musical will always be an acquired taste for some, but the production stays full throttle throughout, whipping from number to number without leaving much time to question what you're witnessing.
It would be fascinating to travel back in time and see the show in the 1970s during its premiere at the Royal Court, with hand-me-down heels and thrift-shop corsets. And while some of the gender politics in the show really haven't moved past that year, this is still a fresh, flashy production geared towards modern-day Horror obsessives.