Review: The Moderate Soprano (Duke of York's Theatre)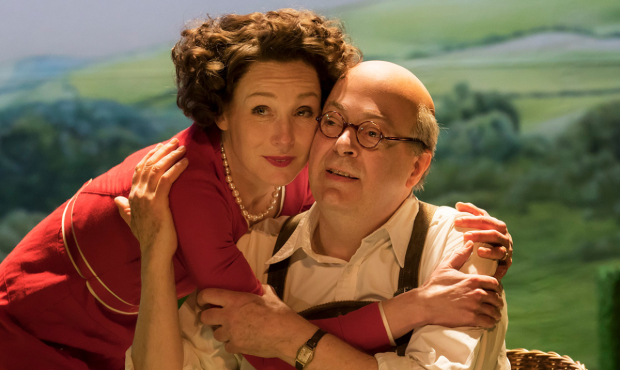 David Hare recently pointed out how ironic it is that Sussex has provided such fertile material for his drama. He hated his childhood home of Bexhill-on-Sea and couldn't wait to escape. But now, at 70, has turned back to his roots to produce two surprising and compassionate plays.
First there was South Downs, a response to Rattigan's The Browning Version. Now there is The Moderate Soprano, a piece that Rattigan himself might have written, given its well-made shape, middle-class subject matter and its fiercely beating heat.
Its subject is the founding of Glyndebourne, Britain's first and most-famous private opera house, and the vision of Captain John Christie, a bull-headed English eccentric who fell in love with Wagner and determined to improve the state of opera in England as a result. He also, at the age of 48, fell in love with Audrey Mildmay, the soprano of the title, and together they made their dream come to fruition in the rolling Sussex countryside.
It's taken almost three years since its premiere at Hampstead for this production to reach the West End and it has been reworked, strengthened and elegantly redesigned by Bob Crowley en route. Its main theme is about the power of the sublime, the centrality of art to life. "Art can't be the sideshow," Christie exclaims at one point.
It also, in post Brexit-voting Britain, has a sharp political point to make about the way that a quintessentially English institution owed its success to a mongrel combination of native doggedness and the artistic talent provided by a mixed bunch of German emigrés, fleeing Hitler.
But the kernel of the play, the thing that gives it its piercing melody, is the relationship between Christie and Mildmay, two people deeply in love. She gives up her career to become chatelaine of Glyndebourne; he builds her an opera house to sing in. Yet when she is dying – in scenes that run through the play's structure – he can't tell her outright that he loves her. Instead he offers her a cup of tea – "from Fortnum's" and recites the names of the operas they have produced, like a lullaby and a lament, comforting her with the thought of "the fun" they have had as she battles terrible pain.
It is an immensely moving portrayal of a love that does not speak its name, full of insight and empathy. Hare and the director Jeremy Herrin are lucky to have playing Christie and Audrey two actors who are supremely skilled at suggesting suppressed emotion. As Christie, Roger Allam (in a much better wig than before) is a superbly convincing mixture of patronising bluster and deep feeling. You utterly believe that this is a man whose humanity would express itself in reading verses from Spenser's Faerie Queene to soldiers trapped with him in the trenches of the First World War – and that he would write letters to Winston Churchill telling him how to run things in the Second.
There's a wonderful scene when he realises that he is going to have to cede the artistic running of his opera house to the professionals – Paul Jesson's brusque Fritz Busch, the imperious Carl Ebert (Anthony Calf) and the charming Rudolf Bing (Jacob Fortune-Lloyd) who would go on to run the Edinburgh Festival and the New York Met. He sits in his chair, squirming impatiently, and then strikes the arms with the petulant temper of a child when he realises he is beaten. But he gives up with grace; his passion for opera is greater than his concern with status.
As Mildmay, Nancy Carroll suggests with a look in her eye, a catch in her voice, or an inflection of her head a world of concealed longing and thought. She catches Mildmay's fiery spirit – "Snobs on the lawn," she spits, reading a Daily Mail headline that particularly enrages her – and her buried disappointment that her talent will never quite be judged for what it was. "I've been given a life but another's been taken away," she confides sadly to Bing. The scene where she confronts the three men who doubt her is quietly empowering. Her illness and death deeply moving.
That rather sums up the effect of the play. It is hardly radical, but in its own under-stated way, it satisfies. Like a love letter to a certain type of Englishness that Hare understands surprisingly well.