Review: Sweet Charity (Donmar Warehouse)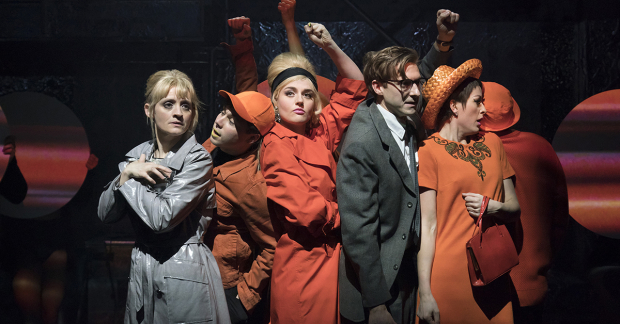 Looking back on Josie Rourke's seven years in charge of the Donmar (and even more across her 19 year association with the theatre) the productions she has directed have had a wild variety from Shakespeare, to new plays to musicals, but they have shared a strongly humane sensibility and a willingness to put women and politics centre stage.
Even so, it was a shock that she chose as her farewell this 1966 Neil Simon (book), Cy Coleman (music) and Dorothy Fields (lyrics) musical about Charity Hope Valentine, a hapless and hopeless dance hall hostess, who may be the focus of attention but hardly has agency since her life is constantly at the mercy of a series of difficult and manipulative men. "You stupid broad," says Nicky, her fellow dancer at the Fandango Ballroom, with the toughness of affection. "You run your heart like a hotel. You've got guys checking in and out all the time."
What's more, Sweet Charity's expansive song sheet – "Big Spender", "If My Friends Could See Me Now", "There's Got to Be Something Better Than This" – multiple scene changes, and complicated, lengthy dance numbers were always going to be a challenge on the Donmar's handkerchief stage.
Rourke's solution to this physically is to stick a ten-strong band in the room in the bar next door (under the musical supervision of Gareth Valentine and direction of Simon Beck) and then, with her designer Robert Jones, devise a witty, homespun setting which recalls the world of Andy Warhol's Factory, with silvered surfaces, ladders and balloons. The cast unfurl hand-written signs telling us where we are, a ball-pool stands for a lake, and, best of all, an overhead projector mimics the progress of a lift where Charity meets the neurotic Oscar, who looks set to bring her the happiness she so relentlessly seeks.
Her solution metaphorically, is to substitute real emotion and heartache in place of Hollywood razzle dazzle, constantly emphasising warmth and goodness over cynicism. In spirit she finds herself closer to the wistful screenplay for Nights of Cabiria by Federico Fellini, Tullio Pinelli, and Ennio Flaiano, than to the sharp-edged brilliance of Bob Fosse, whose genius turned the Italian original into a slick American musical.
In this, she is immeasurably helped by a central performance from Anne-Marie Duff who takes the sweetness in Charity and turns it into an aching reproach against a world that won't let her escape a dead-end "temporary" job where she has been trapped for eight years. Her singing voice is husky, rather than soaring, but that catch in her throat is infinitely appealing, and her endless, hopeful smile is full of sadness. The delicacy of Duff's performance and her comic timing are both extraordinary. They emerge most strongly in the scene where she meets the glamorous movie star Vittorio Vidal (Martin Marquez, charming rather than creepy) and makes him believe in the romantic tosh he spouted in his movies.
As she dances with delight in "If My Friends Could See Me Now", she shimmers and shimmies; it's not a show-off dance routine, but a real woman expressing her feelings, with nods to Charlie Chaplin. This use of dance as an expression of character is the key to Wayne McGregor's choreography throughout. Faced with the difficult task of replacing Fosse's iconic and influential creations, the Royal Ballet's resident choreographer sidesteps the issue by rethinking what the dance is for.
So, in "Big Spender", he and Rourke position the dancers on the revolve and let them stand still to sing, with just the occasional, strong gesture. It's sexy but there's no bumping and grinding; these are women who trying to retain control against the odds. In the famous Rich Man's Frug, McGregor brings on a gang in black polo necks and Andy Warhol wigs, and lets their swimming arms and fierce kicks recall Sixties dance trends.
It's smart and clever and slightly off kilter, like the entire production which is sustained by a strong group of detailed performances. Arthur Darvill brings real likeability to the gentle Oscar, managing to suggest that his obsession with "purity" is a failing rather than a strength; in "I Love to Cry At Weddings", the comedy of his half-hearted finger clicking amidst the sassy mayhem around him indicates his inability to let go.
Lizzy Connolly and Debbie Kurup are terrific as Charity's fellow hostesses, strong-voiced and powerful; in "Baby Dream Your Dream", where they unpack Brillo boxes stacked like Russian Dolls while singing of a different, domestic life, they find a compelling mix of resistance and regret. And in "Rhythm of Life", Adrian Lester appears in sequins, with a huge spliff and an irresistible tsunami of charisma to just about stop the show. (He's in the role of Daddy Brubeck until April 27; other guests will succeed him.)
All in all, this Sweet Charity is both full of character, very enjoyable and highly intelligent. And so, rather surprisingly, a pretty good summary of Rourke's artistic directorship as a whole.