Review: Rock of Ages UK tour (Manchester Opera House)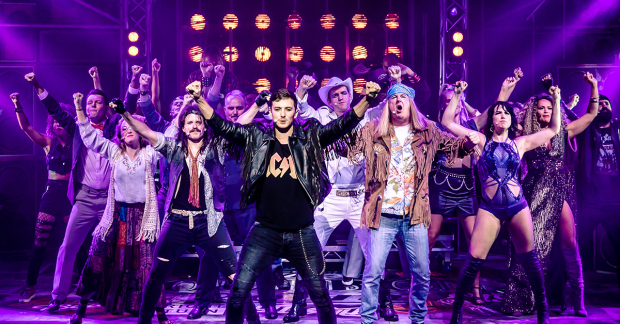 Back in the 1980s us girls were brought up on a diet of Legs and Co, Saturday night Seaside Specials and Miss World pageants: all those perfect young women in their tight pants cavorting for no purpose other than to titillate the (male) masses. But the past is a foreign country and god knows we're doing things differently now. Or are we?
With the return of Chris d'Arienzo's Rock of Ages to the UK stage, it seems not. Instead, we're back in the '80s, in a 'very different time' as our narrator warns us at the top of the show. And boy, is he right.
First the plot, such as it is. Sweet, innocent homespun Kansas gal Sherrie (Danielle Hope) heads for the lights of LA and meets clean-cut Drew (Luke Walsh) at the Bourbon Club, a venue soon to be demolished by some dastardly German property developers (cue goose-stepping, tin-hatted Germans – complete with Hitler impersonation… I kid you not). A campaign to save the Bourbon launches while Sherrie has sex (yes, almost) with a sleazy lead singer, Stacey Jaxx (Sam Ferriday). She's spat out (literally) and ends up working in a strip club run by a lusty Zoe Birkett. I think it ends well, but frankly, the stink of soft porn hanging over the production was too distracting.
Is it still ok for blokes to leer at girls' bums when they bend over in skin-tight shorts? To stick her fingers down his crotch and rub? For him to take off her panties and give them a good sniff, or for her to stick a bottle up his backside, or for him to simulate tit groping…? This is all just nasty smut dressed up as high camp, conveyed through a nauseating prism of very loud, very noisy rock tunes.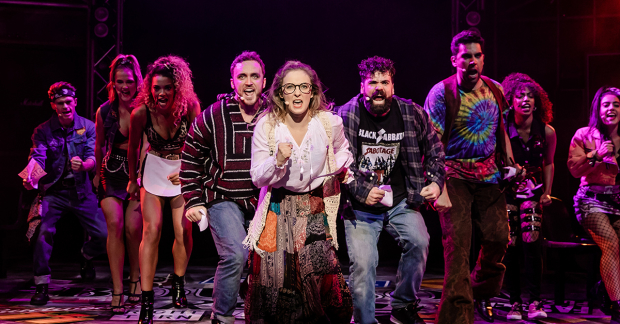 In fact, it's hard to figure out whether this show is so post-post feminist that we've actually gone full circle and ended up back at square one, or whether it knows it's being hideously obnoxious and just doesn't care, 'cos that's rock 'n' roll, babe.
The production has a handful of saving graces, by the skin of its teeth: one or two laugh out loud gags, some super-camp turns and a motoring central performance from Lucas Rush as Lonny, the narrator. He's the devil with the best tunes in this unreconstructed museum piece.
I'd suggest the Women's Equality Party give Rock of Ages a wide berth for their Christmas shindig, and I suggest you do too, unless you like your evenings stuffed full of crude, lewd, rude nonsense.