Review: Partenope (London Coliseum)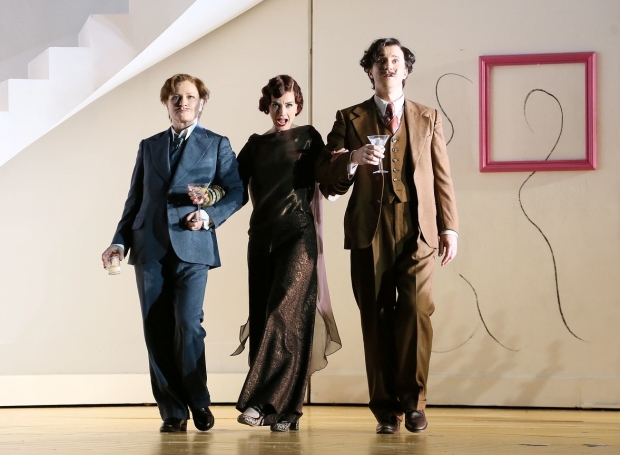 "What a bastard" to the tune of the 'Hallelujah' Chorus? Not quite, but the phrase still finds its way into Amanda Holden's free translation of Handel's Italian-language comedy, along with 'turd', 'shit' and a seasoning of toilet humour. Still, fortune favours the brave (to quote Holden again) and she gets away with it in an opera that's less about true love than who fancies whom.
You'll have gathered that Partenope is not one of Handel's heroic operas; indeed, with six singers and no chorus it's practically a drawing-room comedy. The eponymous heroine is courted variously by Armindo (Prince of Rhodes), Emilio (whom she has defeated in battle) and Arsace (who is being stalked by his former lover, Rosmira). It's a tale that's ripe for an imaginative staging, but it poses the age-old question: how do you turn a comic opera seria from the 18th century into a jolly romp for today?
Christopher Alden's solution is to ape the French Surrealists and create a smart, 1920s Man Ray aesthetic within a trio of chic-white sets by Andrew Lieberman. These environments are not especially inspired by Handel's opera, however, and as deployed by Alden their blandness could serve almost any purpose. Why not borrow them for Mozart's Don Giovanni, say, or Così fan tutte? The director has dealt himself a free hand by using Surrealism as a catch-all to justify any stage business. It's a lazy option, and when inspiration flags he throws in a conjuring act.
Alden is right on one level, though: Partenope's silliness suits the surreal and it gives him a ruse for staging tricky da capo arias with their recurring phrases and from-the-top repeats. It also allows some sublime music to catch the wind, although the stylish young countertenor James Laing might have preferred to deliver "Voglio dire al mio tesoro" without clinging to the undercarriage of a grand staircase.
'A three-hour masterclass in sashaying'
But with nothing in the setting grounded in reality, arias that express true emotion seem merely synthetic. Poor Patricia Bardon bears the brunt of this: her magnificently sung, profoundly engaged Arsace is given scant context for true sorrow in an artificial world where the discreet qualms of the bourgeoisie are reduced to sophisticated game-playing.
The accomplished Stephanie Windsor-Lewis plays Arsace's spurned lover, Rosmira, and since both mezzo-sopranos spend the opera moustachioed and besuited they are interchangeable in all but diction. That is where Bardon reveals her class.
Rupert Charlesworth, a late replacement for fellow tenor Robert Murray, relishes each moment in the limelight as Emilio and sings up a storm, while bass Matthew Durkan fills out the lesser role of Ormonte, Partenope's manservant, with a cavalcade of bearded camp.
Christian Curnyn, who conducted ENO's production when it first appeared in 2008, returns to give a most eloquent account of Handel's refulgent score. He draws playing of variegated beauty from the versatile ENO Orchestra and makes their predominantly modern instruments sound like an extension of his own Early Opera Company players.
The most dazzling contribution comes from Sarah Tynan as Partenope. The divine soprano—an English Natalie Dessay who sings as she moves, with fearless physicality and agile grace—gives a three-hour masterclass in sashaying. Dressed by Jon Morrell in flowing gowns that waft her angelically, and at one point a Blue Angel trouser suit, Tynan animates the stage with a self-aware beauty that's an entertainment in itself. And her vocal fireworks light up the night.
Partenope runs in repertory at the London Coliseum until 24 March.