Review: Little Shop of Horrors (Regent's Park Open Air Theatre)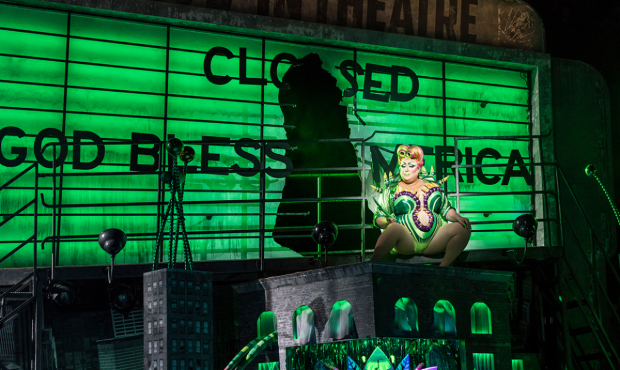 Having recently redefined Jesus Christ Superstar for a whole new generation of theatregoers, Regent's Park Open Air Theatre have only gone and done it again. This new take on Little Shop of Horrors is an unqualified triumph, putting a unique but entirely appropriate spin on a familiar show.
Inspired by a low-budget '60s sci-fi movie of dubious merit, Howard Ashman and Alan Menken's musical is a camp, funny, occasionally sinister little gem of a show that flourished off-Broadway and in the West End in the mid 1980s before an overblown but enjoyable film version brought it to a wider audience.
Since then it has toured incessantly and been revived several times, including the 2006 Menier production with Sheridan Smith as good-hearted heroine/victim Audrey. But it has never looked quite as exciting or outlandish as it does here in Maria Aberg's dynamic new staging, with inspired, witty designs by Tom Scutt.
One might think it impossible to convey inner-city claustrophobia in a space as open and lovely as the Open Air Theatre but Scutt has succeeded, ably abetted by Nick Lidster's intelligent sound design and – once the sun has gone down – by Howard Hudson's well considered lighting. Skid Row, the slum where Mr Mushnik's dilapidated flower store inadvertently houses man-eating plant Audrey Two (named after our florist heroine by her adoring but hapless co-worker Seymour) is characterised as a series of ingeniously scaled-down tenement buildings and fearsome tower blocks.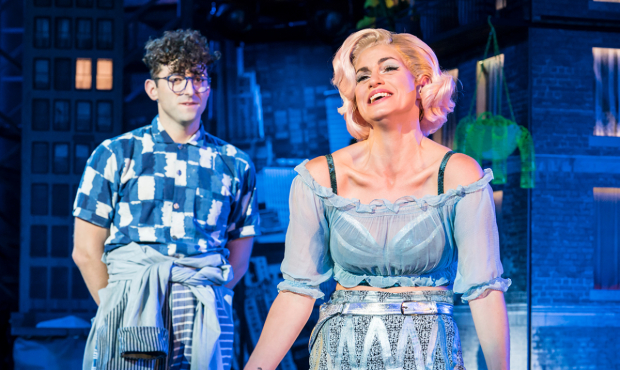 On all sides, trolley-pushing homeless wander through an apocalyptic Manhattan cityscape dominated by a shattered movie palace marquee (a tart nod to the shows B-film origins). The creative team have cleverly ensured that almost nothing on their stage seems natural: plastic implements substitute for pot plants, telephone wires hem characters in, revolving skyscrapers loom over intimate scenes. Lizzi Gee's tense, hyperactive choreography adds to the sense of exhilarating menace, as does Max Humphries' lurid puppet design, and the gorgeous, bonkers costumes. The show vibrates with a sort of grim vitality that delights and alarms.
The performances are key to this. As the central couple Marc Antolin and Jemima Rooper finely balance the cartoon-like excesses of their characters with a sense of poignant desperation that becomes increasingly affecting. They are hilarious but maintain throughout a sadness behind the eyes that make their tender moments really moving to watch. This Seymour and Audrey have a slightly harder edge than usual, and it subtly grounds all the craziness. They're brilliant.
There is craziness aplenty in Matt Willis' outrageous, magnetic turn as Audrey's unhinged dentist boyfriend, and in Forbes Masson's money-grabbing flower-shop owner, just one facial tic away from Max Bialystock in The Producers. Renée Lamb, Christina Modestou and Seyi Omooba are ridiculously good as the trio of sassy street urchins who comment on the show like a girl group-Greek chorus hybrid. The singing throughout is thrilling.
Man-eating Audrey Two is usually an outsized puppet with a dark, soulful off-stage voice. Not here: American drag queen Vicky Vox conveys more with an arched eyebrow than most performers can with a dozen words, sings up a storm in a supple baritone, looks garishly beautiful yet terrifying, and serves up plant-based realness by the bucket-load. It's a glorious reimagining of the role.
The free-wheeling originality of Aberg's terrific production points up what a magnificently well-crafted piece this is: the late Ashman's book acknowledges the schlocky awfulness of low budget horror films but has an authentic tension and crackerjack humour of its own, while his lyrics remain some of the finest and funniest in modern musical theatre. Menken's eclectic, ear-worm music remains a marvel: do-wop trios, salsa and calypso-inflected ditties, a joyous Hebraic father-and-son duet, driving rock anthems, rousing chorales and a heart-catching ballad for Audrey (the standard "Somewhere That's Green" delivered here by Rooper with a clear-eyed simplicity that pins you to the back of your seat)…it's a fabulous score.
This is a hell of a show. Fans of the original won't be disappointed and people encountering it for the first time will be delighted, and likely to come back for more. I would give it six stars if I could. Do not miss it. Joyous.