Review: Leave Taking (Bush Theatre)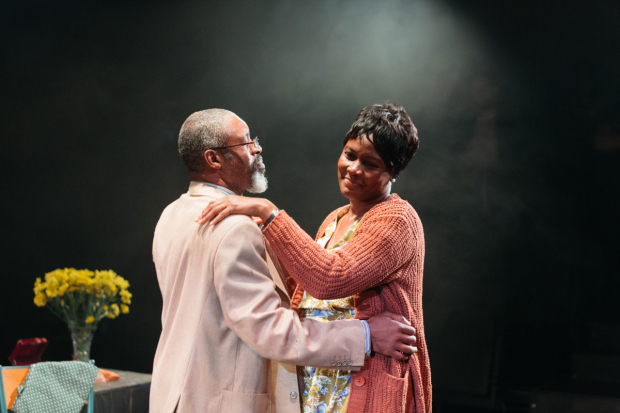 There couldn't have been a better time to revive Winsome Pinnock's remarkable play about two generations of a British-Jamaican family in London. In the wake of the Windrush scandal it is a reminder of the sacrifices made and the hard work it takes to leave your home and find your place in a country where you are mostly treated like a second class citizen.
Pinnock's heroine matriarch Enid came to Britain from Jamaica, following a man and a promise of a life with opportunity, rather than poverty. Now she's on her own bringing up her two young English daughters, who are strangers to the 'land of wood and water', her homeland. While Viv excels in her studies, Del's wayward ways are a big worry to Enid, who, in the first very funny scene takes them all off to visit a woman who practices obeah – an old Jamaican way of spiritual healing.
The play is a beautiful, humourous and often impossibly sad portrayal of the immigrant experience. Enid works two jobs, seven days a week so her kids can have. Her children in turn see her bowing to a racist system that stifles and restricts. The contrast of Enid's broad Jamaican accent and her daughters' sharp London tones is an example of how different their lives have been. And her family back home think she's rich, as Uncle Brod – Enid's longtime, drunken friend says: 'They think the Caledonian Road is paved with gold'. She sends money home when she can, but the truth is she has next to nothing.
But though the play is timely, it is also timeless, and paints a subtle, nuanced portrait of mothers and daughters. The pressures of living up to an expectation are made all the more acute given Enid's desperation for her children to do well in the country she has made their home. "I can't live your life for you," says Viv simply at one point. Enid's every move, her every bone is set on helping her kids. But they must, and do, find their own path.
Pinnock's dialogue – this was her first full-length play – is a subtle marvel, offering all the poetry and rhythm of the Jamaican accent, where phrases sing with layers of meaning: "What doctor know about a black woman soul?" It is a brilliantly wrought piece of drama that quietly builds, with no need for huge revelations. It's a snapshot, a moment in the lives of people trying to get by.
Sarah Niles is a revelation as Enid, her shoulders stand proud and though it's clear Enid has anger, Niles keeps it bubbling below the surface. And she manages the character's child-like longing well too: in the most touching moments Enid seems like a little girl, wishing for her mother, or the sweet smell and heat of Jamaica. The rest of the cast are all superb, including a poised and funny Adjoa Andoh as obeah woman Mai and Wil Johnson as Brod, who demonstrates brilliantly the disaffection and disillusionment of a man treated with no respect.
Madani Younis' production is pitched perfectly, with a nicely unfussy set from Rosanna Vize, which rains and fills with water at the most emotional moments. This is a play not performed enough; a symphony of a cracked, struggling family in a world that offers little. But there's joy and love here too and it speaks to all.