Acknowledging a history of movement: creating the set for Winsome Pinnock's Windrush play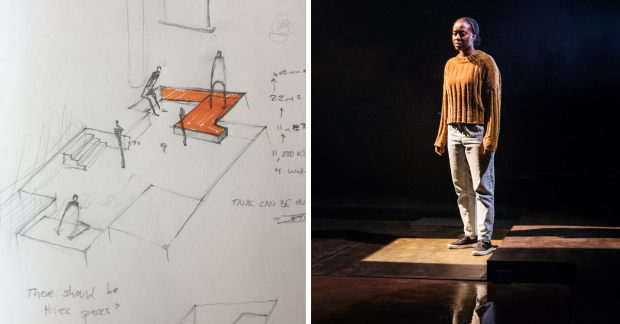 When I first met with Madani Younis, the artistic director of the Bush Theatre, to discuss the design of Leave Taking he had a challenge for me. The play is a naturalistic one. The writing is detailed, human and domestic. It sits comfortably (and beautifully) in living rooms and bedsits, with chairs, tables, props and lampshades but "We've seen that production" said Madini "We know it works". Instead, he wanted us to create a production that would stretch the play in order to reveal its deeper, more universal, more timeless themes. The writing is robust, we decided, it could take a bit of pushing and pulling.
Leave Taking is an account of a second generation immigrant family. It focuses on the differences in experience of a Jamaican mother and her teenage daughters. It pays tribute to the journeys taken and the sacrifices made by the Windrush generation. It acknowledges a history of movement: "It must be some kinda curse that condemn our people to wander the earth like ghosts who can't find rest."
This idea of movement and of journeying became interesting to us; the ships, the sea, the wood, the water. It felt right to move in an elemental direction that focused on raw/real materials. Jamaica itself is "the land of wood and water". This was our key.
Design became a patchwork of history that would allow our actors to fluidly move in and out of focus.
With this in mind we concentrated on the physical shape of the design. An early conversation had already confirmed to us that we should configure the space in the round. It creates an immediate equilibrium with actor and audience – this is everyone's story. It stops us from relying on large pieces of scenery or fakery to tell a story and forces us into something more authentic.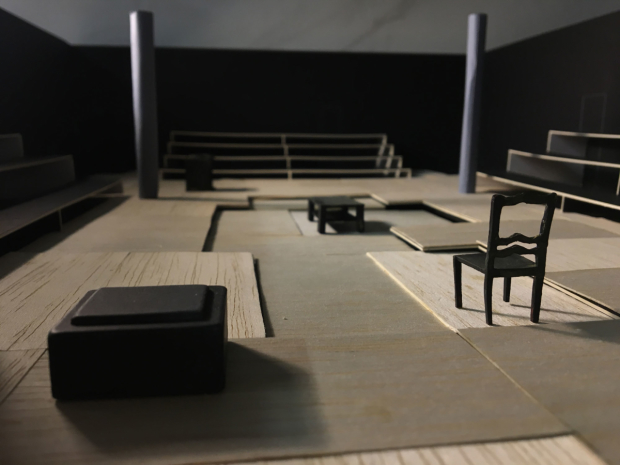 Taking time to sit in the Bush furthered our thinking – it's an honest space, we aren't looking at black paint covering up, we are looking at real materials; brick, concrete. When you work in spaces like this, you have to make a decision – to play with or against; there's no room for in-betweens.
It slowly became clear that the space needed to be used as an entire and total environment. Consisting only of stained plywood the design became a patchwork of history that would allow our actors to fluidly move in and out of focus. This fluidity, we hoped, would help us move between naturalistic scenes and more heightened moments. We then created a sort of cut out in the middle of the space, taking advantage of the Bush's rarely exposed pit. This cut out offered layers and provided a sense of architecture without requiring walls.
We therefore began experimenting with ways in which water could enter and leave the space
So we have wood – what about water? In the physical action alone we see glasses of water thrown, alcohol drunk, kettles boiled but could we push this further?
A language started to develop that connected Enid's memories of her past to water – something that is initially suppressed but eventually unavoidable. We therefore began experimenting with ways in which water could enter and leave the space. This idea evolved further in the rehearsal room through discussion with Sarah Niles (Enid) who helped us pinpoint the exact emotional journey of the water in relation to her character.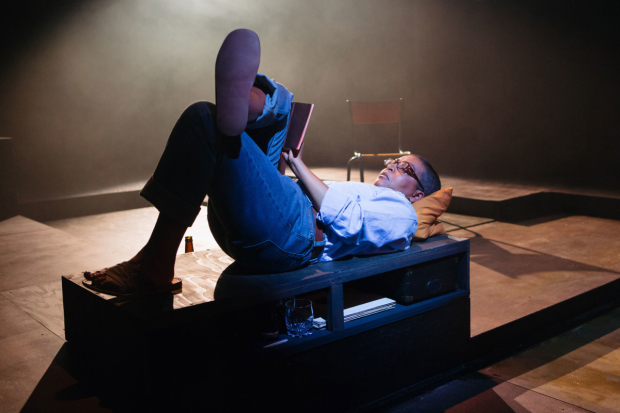 Similar conversations existed in the rehearsals around costume. As a designer I find it is important to collaborate closely with the actors when approaching something as personal as clothing. This felt doubly important in this production as the five actors all have a close relationship with Winsome Pinnock's play and the experience of the characters.
Working on Leave Taking has been a collaborative and exciting process. I'm proud of what we've made and endlessly impressed with the group of people I am making it with.