Review: Kunene and the King (Swan Theatre, RSC)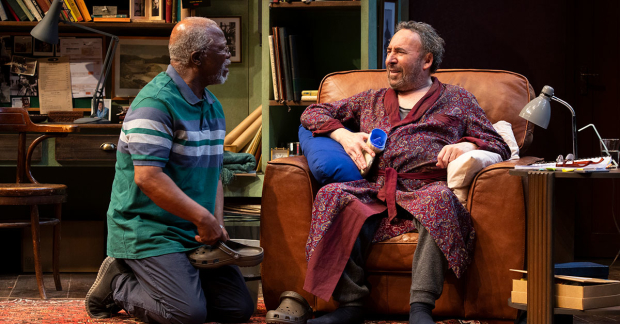 It's been a while since the RSC produced a two-hander on one of its main stages. Even in the more intimate setting of the Swan, it's a tall order to carry the attention of an audience for the best part of two hours, uninterrupted, between two actors. Fortunately, director Janice Honeyman isn't graced with just any two actors. She is blessed with the play's author, John Kani, and recent RSC Lear Antony Sher. You wonder whether she ever felt surplus to requirements during rehearsals.
In fact, the directorial hand is firmly present, in this production of Kunene and the King, and rightly so, drawing out two terrific performances that are never allowed to blow out of control. The text is also steered through some of the play's denser, more expository chunks without losing momentum.
Kani's play throws together two ageing South Africans with very different reminiscences of the bad old days of apartheid. Sher's Shakespearean actor character, Jack Morris, has been diagnosed with stage four liver cancer and he's been sent a black nurse (Kani) to cater for his daily medical needs. Neither has asked for the assignment, neither particularly wants it, but both are forced, in the classic way of great drama, to endure and ultimately confront a situation beyond their own control.
The script visits this unlikely pairing at three different stages in their relationship, watching them rub up against each other and metaphorically beat each other up with their respective histories as they grapple their way to some kind of mutual understanding. In the process, the personal clashes work much more effectively than the political, which occasionally feel laid on a bit thick.
But Kani has a deft ability to weave comedy and pathos together, with some killer moments and a nice line in humour – which he generously shares between both characters. Fortuitously, Morris is rehearsing the role of King Lear for a forthcoming production, which allows Sher to plunder his mighty 2016 interpretation of the part and provides lots of opportunity for exploring Kani's evident love of Shakespeare as well as emphasising the universality of the Bard's themes.
There are some beautiful touches across the production, including Lungiswa Plaatjies' haunting vocals, which bring authentic life to Neo Muyanga's music, a surprisingly conventional but effective set from designer Birrie Le Roux and some impressive lighting and sound effects from Mannie Manim and Jonathan Ruddick respectively.
The show transfers to Cape Town's Fugard Theatre after the end of its UK run, and will doubtless strike different chords with South African audiences. But there's plenty of food for thought – not to mention Stratford references – to intrigue, entertain and impress the very diverse local crowd. It may not be the play of the year, but the electrifying work of the two performers alone is enough to warrant its all-too-brief outing on the Swan stage.