Review: As You Like It (Royal Shakespeare Theatre)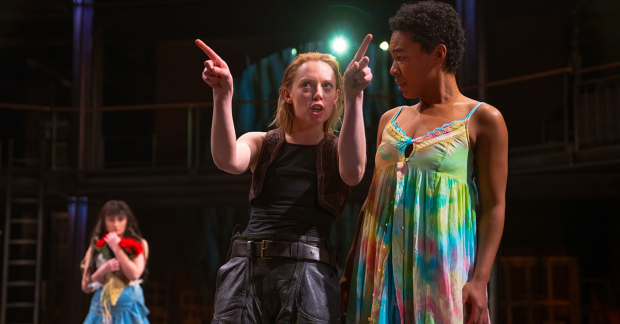 There's a real sense of the ensemble about the RSC's forthcoming summer season in the main house at Stratford: all the actors appear in at least two of the three Shakespeare plays in repertory – we have The Taming of the Shrew and Measure for Measure to look forward to – and if the curtain-raiser is anything to go by, there's already a strong bond developing within the company.
As You Like It is the first public test of this appealing approach and, while it's hardly groundbreaking stuff, it certainly shows off the strengths of the ensemble's teamwork. With the exception of Rosalind (a boisterous performance from Lucy Phelps), no character is foregrounded more than any other, allowing some individual moments of sparkle while sharing the limelight out pretty evenly.
Sandy Grierson's grotesquely vaudeville Touchstone exploits elements of farcical humour; Antony Byrne is typically commanding in the roles of both fraternal Dukes whose mutual antipathy provides the story's catalyst; and Sophie Khan Levy offers a delightful foil to Phelps' Rosalind as the cousin who refuses to abandon her.
One downside is the rather quiet sidelining of Sophie Stanton's elegant, thoughtful female Jacques, reduced to something of a bit-player in spite of her famous monologue on the seven ages of man. Stanton graciously fits the ensemble mode but I wanted more of this philosophical, enigmatic social commentator.
Director Kimberley Sykes has not opted for subtlety. In a reconfigured auditorium, with seats curving round behind the stage to create an almost in-the-round playing space, she unashamedly co-opts the audience into the action, leaving house lights on for much of the performance and encouraging her cast to interact freely with the crowd. Some of this business works better than others and sometimes it's frankly awkward, but the energy and commitment of the actors means they power through it with verve, ultimately carrying the audience with them.
Unfortunately the shortage of nuance means that far too much of the delivery is just a bit shouty, and I longed for more variety in volume and tone to match the rich texture of Shakespeare's words. Blunt lighting cues and overplayed visual slapstick add to the sense that Sykes has urged her team to simply play it for laughs and, when push comes to shove, go for spectacle.
She certainly achieves that with a coup de théâtre finale, and Bretta Gerecke's costumes look fabulous even when they're dowdy, but the impressiveness feels unearned, like the playwright's outrageous deus ex machina that brings such a neat and happy resolution.
Of course, as Rosalind kindly invites us in her epilogue, we can appreciate just as much of the show as we like. And as a portent of the repertory season to come, I liked it just fine.