Review: King Lear (Duke of York's Theatre)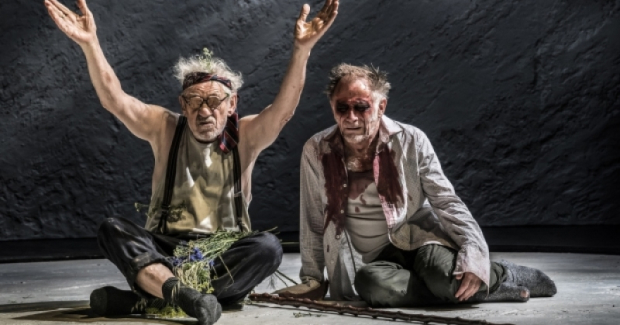 The wheel of fortune spins with terrifying rapidity in this version of Shakespeare's most elemental tragedy. We open with a king in gleaming military regalia, spotlit centre-stage. Snapping a folder shut with decisive power before deciding to divide his kingdom between his three daughters. We end with the entire family dead, and the next generation standing in a barren landscape tentatively groping their way towards the rebuilding of a destroyed Britain.
Jonathan Munby's dazzling production charts that trajectory with thoughtful clarity and fierce velocity. Built around a central performance of magnificent control and insight from Ian McKellen this is a chamber Lear, compressing its huge scale into a small space but mining its vast emotions. It has been slightly recast since its appearance in Chichester last year, but the intimacy of a studio theatre has been retained by building a walkway through the stalls, so the audience is as close as it is possible to be to the action.
Paul Wills' set, starkly lit by Oliver Fenwick, is simple but hugely effective: a semi-circular wall of dark timber which splits in the second half to reveal white slabs of rough chalk. On the floor, a red circle which also turns white as the action progresses. The start is all pomp and circumstance, an elaborate court spectacular with gleaming medals, hands raised at the mention of heaven, and sung anthems. The end is desolate.
It's more or less set in the modern day. In Danny Webb's detailed performance, Gloucester is a bluff, confident military man, funny and self-assured; Sinéad Cusack's intelligent, loyal Kent is a court bureaucrat who disguises herself as brawling yob by dint of tucking her long hair into a woolly hat and adopting an Irish accent. Police sirens follow Edgar as he runs away. When Lear retires to the country he dons mustard tweeds; his retainers are hearty hurrahs, chucking bread rolls at waitresses. He faces the heavy storm, real water pouring on his head, in a well-tailored suit.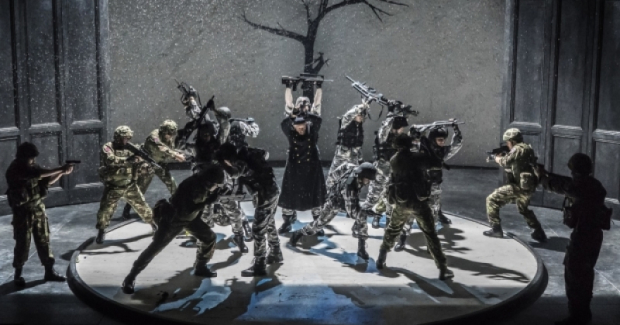 But the trappings of the production are not its story. They are generic enough to allow the words to emerge, to let each actor concentrate on creating a character with a specific place and psychology. The sisters for example, are carefully contrasted with Claire Price's nervy Goneril, the uptight elder sister, gaining in confidence with each step away from parental tyranny, while Kirsty Bushell's skittering, giddy Regan reels out of control with the excitement of inflicting pain. Her mad dancing during the blinding of Gloucester (unbearable to watch) makes a painful scene even more terrifying
It's a production that takes care with detail, teasing out its themes of generational misunderstanding and the perils of age. We know what happens to Lloyd Hutchinson's music hall turn of a Fool, for example; he doesn't just vanish. James Corrigan, a roistering Edmund, makes you see the pain of neglect that turns him to evil plotting in the moment he watches his father kiss his other son Edgar's portrait. Luke Thompson as a rather noble Edgar echoes that sense of abandonment, as favour turns against him.
But the production stands or falls on its central performance, and McKellen, returning at the age of 79 to a role he first played in 2007, is mesmerising. He is so comfortable inside Shakespeare's language that he finds new meaning and inflections in every line; his conversational style means that the mannerisms that sometimes coloured his performances early in his career are entirely absent.
This is an interpretation of light, physicality. He makes Lear a man who is always on the verge of rage, but seems to quell it, pinning his arms tightly by his sides as if to hold himself together. There's an astonishing moment when having cursed his daughters as "unnatural hags" he suddenly realises that all his threats of his retribution are meaningless; he knows he is old and powerless. That realisation is all the more heartbreaking because he maps so movingly Lear's understanding of his own failures; his quiet "oh I took too little care of this" as he surveys the lost and homeless speaks volumes.
By the close, as he sits cradling Cordelia's body in his arms, McKellen has acquired both wisdom and childlike simplicity. He cuts straight to the heart. He says that this is going to be his last Shakespeare performance. If that's true, it is a dazzling end to a career that has consistently and wonderfully illuminated the plays.