Review: Kieran Hodgson: 75 (Pleasance Courtyard, Edinburgh Fringe)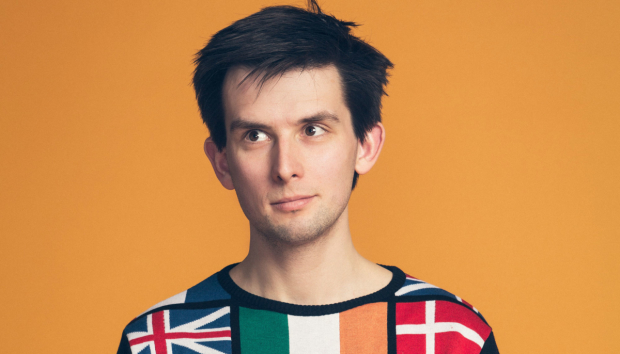 There is a small sub-genre of Brexit plays filling the Edinburgh Fringe (all of which, sadly, I have missed) but the big moment facing Britain in terms of its relationship with the rest of the world has permeated the comedy circuit too.
Nowhere is it more obvious than in Kieran Hodgson's new show 75, which looks back to the 1970s to understand the 2016 referendum – which he gleefully describes as the cover version of the original vote. It is one of the best researched and most thoughtful takes on the topic you are likely to see – insightful as well as genuinely funny.
Whereas Jonny Woo's All Star Brexit Cabaret (Gilded Balloon) get its laughs – and there are many – from songs written by Richard Thomas that simply use swear words to comic effect, Hodgson has gone to the trouble of crafting a show that actually does attempt to explain things. It also features impressions of the '70s political all stars such as Ted Heath, Harold Wilson and Enoch Powell, which makes it a delight for political wonks as well as comedy lovers.
Hodgson, who has twice been nominated for the Edinburgh Comedy Award, has an attractive way of sending up his middle-class bookishness. "We always knew you were different, Kieran," he says, in the guise of his Huddersfield-accented mother. "How many eight year-olds offer to pay for their parents' elocution lessons?"
His mother (or his version of her) has a starring role here as he repeats the conversation in which she revealed she voted Leave – a moment that led to a rift, and that sent him scurrying to a library to understand why families up and down the land had been torn apart by their views on Europe.
It sounds thin material for comedy, but it is not. In fact, it becomes a hugely inventive history lesson with jokes about Harold Wilson's love for sandwiches mingled with gags about Hodgson's own nerdiness (he wrote a song to remember the names of all the county towns), with a routine that casts the internal struggle in the Labour party over Europe as a rumble from West Side Story, and one that imagines the Beatles giving Harold Macmillan foreign policy advice.
Underneath all this jauntiness are serious points. Hodgson reminds us that the politicians of the 1970s had – for all their flaws – fought in a war that changed their view of the world. His fruity vocal impersonation of Roy Jenkins, arguing for the legalisation of homosexuality even though it was unpopular, because it was morally right, is a reminder of an age when politicians led the country by example.
Hodgson makes you laugh, but he also makes you think. It's a tremendous show.