Review: Edmond de Bergerac (Birmingham Rep)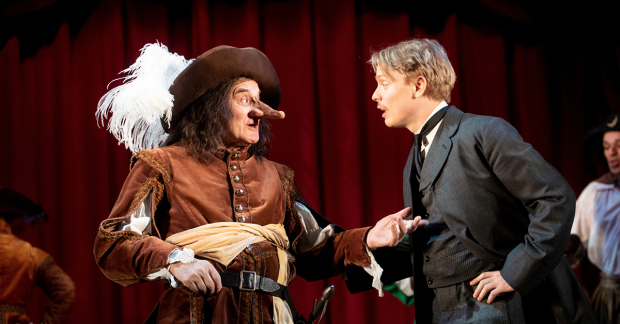 Alexis Michalik's play has been a huge success in France and now comes to the UK in a new production premiering at Birmingham Repertory Theatre.
Based very loosely on the creation of the French drama classic Cyrano de Bergerac, it tells the story of playwright Edmond Rostand's battle against writer's block. After years unable to pen a play, he is forced into action by actor Constant Coquelin who needs a new production to pay his debts. Promising the earth to his creditors, Coquelin then pushes Rostand to create a new play at breakneck speed.
Rostand's inspiration comes from his friend Léo's obsession for the beautiful Jeanne and his own role in using his poetry to woo Jeanne for Léo. In a comic imitation of Cyrano's story, there are love triangles taking place both on and off stage.
In true comic tradition, it quickly descends into farce with plot twists, deceptions, complications, confusions, madcap antics and apparent chaos. And yet despite all the apparent odds, Rostand's Cyrano de Bergerac went on to become one of the most popular plays in French history.
The casting throughout the production is inspired without a single weak point. Henry Goodman shines as the vain but driven Coquelin, known as 'Coqui' to his friends. Determined to have his play, he cajoles, intimidates and encourages until he gets what he wants. Goodman's comic timing is impeccable and, as he swaggers around the stage in his feather hat and sword with a huge prosthetic nose, he's just pure brilliance.
Freddie Fox plays the angst-ridden Edmond who has little faith in his play and even less faith in his actors to perform it. Josie Lawrence revels in a range of over-the-top roles including a majestic Sarah Bernhardt, a busty courtesan and an aged actress. Chizzy Akudolu is the difficult actress Maria who is to play the lead role. One moment she complains she doesn't have enough lines and the next that she has too many but, even though she moans and groans, her Maria does want her moment in the spotlight.
Delroy Atkinson plays Honoré, the bar owner whose argument with a customer first inspires Rostand to begin writing again. It's an interesting role as Honoré has an element of the Greek chorus about him, imparting wisdom to the other characters and, at times, speaking to the audience.
Translator Jeremy Sams has created lively and fun dialogue with plenty of laugh-out-loud jokes which at some moments are so rapid you risk losing the plot. But Rep artistic director Roxana Silbert's direction keeps the show just in check so that it never quite tips over from farce into nonsense.
Designer Robert Innes Hopkins has set the show within a theatre, creating the timeless 'stage within a stage' scenario. He also has some really imaginative touches which allow him to create trains, stagecoaches and even brothels without having to completely rebuild the set.
Produced by Birmingham Repertory Theatre and Adam Blanshay Productions, Edmond de Bergerac recreates a golden age of theatre – but reminds us that behind the plays we enjoy there is often more drama off stage than on.